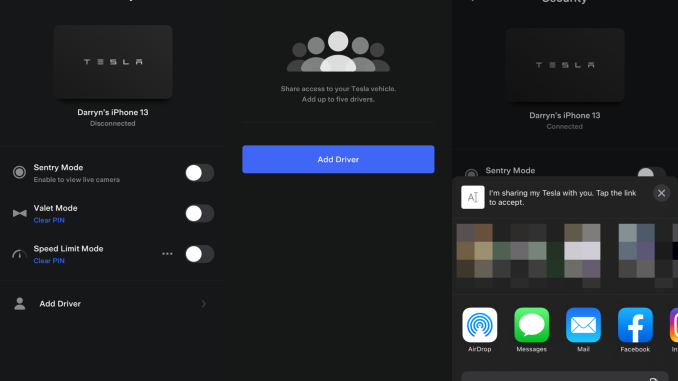 Tesla updated their mobile app earlier this month to version 4.4.0, with the release notes indicating the new version only included bug fixes and improvements.
Hidden in the code however was indication Tesla was working on the ability to add additional drivers to your account directly through the mobile app.
The feature has now quietly been turned on in the mobile app without the need for an update through the iOS App Store or Google Play Store.
To add a driver, visit the 'Security' tab. At the bottom of the page is a new 'Add Driver' button.
Clicking on the new button takes you to a new page which says you can add up to five additional drivers.
Click on the 'Add Driver' button, and you can send an invitation to the contacts in your phone via email, text message, or any other option through your mobile device.
Drive Tesla tested the process through text message, and all the recipient has to do is click the link in the message and access is granted immediately (if you already have the app installed and an account set up).
If you already have a Tesla, you can swipe between cars to access them.
We have been able to confirm this feature is now live on both the iPhone and Android Tesla mobile app.
Tesla first added this car-sharing feature in mid-2020, but could only be done through your Tesla account online. With this change, it is now much easier to share access to your car with a friend or family member.
Access can also easily be revoked at any time through the mobile app.
Let us know in the comments below if you are also seeing this change in your mobile app.