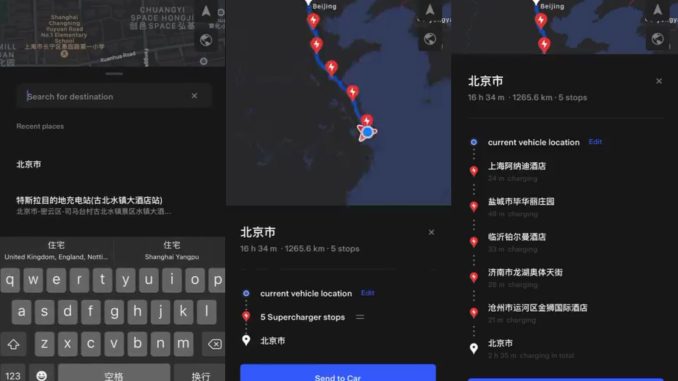 Tesla owners in China have one extra feature in their mobile app compared to owners elsewhere in the world, and that feature is a built-in trip planner.
The feature works just like the in-car navigation, and even allows you to send the route and directions to the car.
A short demonstration video of the trip planner in version 4.4.2 of the mobile app was shared by Tesla China enthusiast @JayinShanghai.
According to the video you simply enter an address and the planner calculates the route, including any necessary Supercharging stops. You then get a trip overview, with details of the amount of time it will take, and how long the drive is.
You can then simply hit the "Send to Car" button to do just that and have the navigation ready to go when you enter your vehicle.
Tesla Moblie App in China – Version: 4.4.2
Is it not the same worldwide Tesla App? $TSLA pic.twitter.com/ofNnMJecBp

— Jay in Shanghai 🇨🇳 (@JayinShanghai) December 30, 2021
If you are wondering why this feature is only in China, it is likely because Tesla uses Baidu maps in the country, and Google Maps everywhere else.
With Baidu maps owners in China also have the ability to select alternative routes after entering a destination, and the on-screen visualizations show an enlarged and more detailed view of exits and off-ramps.
While we can use Google Maps on our mobile devices and send a destination to our cars, the app doesn't display Supercharger stops. Hopefully the feature eventually makes its way to North America, along with the ability to use "Add Stop."
Tesla China releases beta maps udpate with new navigation feature