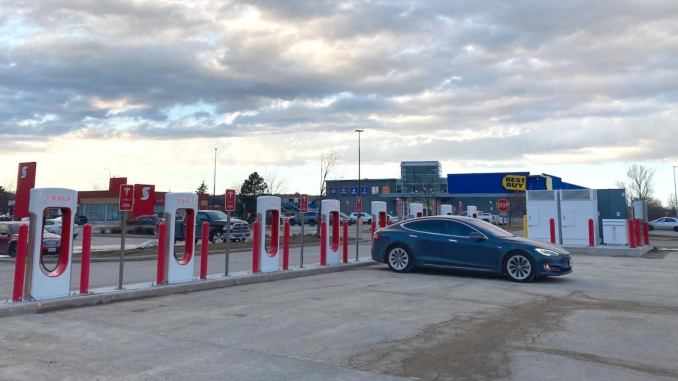 The Ontario government recently held a 30 day public consultation period on its plans to spend $91 million to build public electric vehicle charging infrastructure across the province. During that period the Ministry of Transportation received 58 submissions, one of which was from Tesla requesting their Superchargers and Destination Chargers be included in the program.
In a letter from Senior Advisor, Public Policy and Business Development Audrey Dépault dated November 4, 2022, Tesla says the government should focus on expanding existing "highway-side" fast charging infrastructure, supporting the installation of urban charging infrastructure with a focus on Level 2 charging in multi-unit residential buildings (MURBs), making public land available to charging providers to develop DC fast charging hubs, and adding charging infrastructure along corridors where none currently exists.
When supporting the installation of DC fast charging infrastructure, Tesla also suggests the government should adopt a minimum power requirement of 100kW per connector.
"With an EV charging market and vehicles providing ever increasing kW capabilities, public funds should incentivize the deployment of the technologies with lower charging times to ensure greater convenience to EV drivers," Tesla says in the letter.
In the letter Tesla says they are supportive of the government's efforts to expand EV charging infrastructure, noting that their "technologies and charging solutions are especially well-positioned to help" accomplish this.
Tesla requests that their connector, which can be used for both Level 2 (Destination Chargers) and DC fast charging (Superchargers), be included in the program, following in the footsteps of Natural Resources Canada which has funded numerous Supercharger stations across Canada.
"Including the Tesla connector within the design of the program, just as it has been done by Natural Resources Canada, in recognition of Tesla's proven capacity to deliver sites on time, on or under budget, at scale, and for all vehicle drivers alike."
And just like Natural Resources Canada required a minimum number of CCS connectors to support other EVs, Tesla suggests Ontario do the same with their program.
"Tesla would support a minimum Combined Charging System (CCS) connector type requirement, meaning each DCFC site must have at a minimum a permanently attached CCS Type 1 connector and must charge any CCS-compliant vehicle."
According to the letter Tesla has deployed 1,490 DC fast charging connectors and over 2,100 Level 2 connectors in Canada. The letter also reveals that there are over 1,300 Tesla employees in Canada, and over 130,000 Tesla vehicles have been delivered across the country.
You can read the full letter below.
Ontario EV Charging consultation – November 4 2022