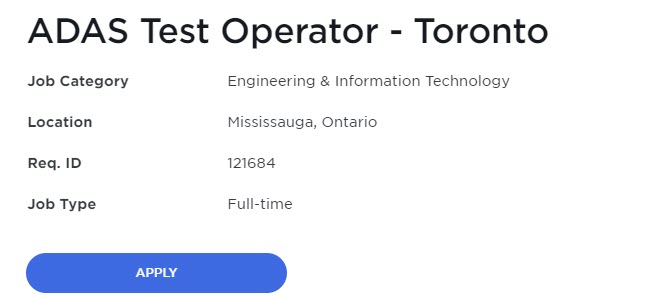 Tesla is once again looking for ADAS (Advanced Driver-Assistance System) Test Operators in the Mississauga area, just outside of Toronto, Ontario.
Tesla first published this job posting back in March 2021, giving hope that it meant the Full Self-Driving (FSD) Beta program was going to expand north of the border very soon.
As we all know, that didn't happen until one year later when Tesla finally released FSD Beta in Canada in March 2022.
There was a lot of interest in the initial job posting, but we never heard of anyone getting the job, or even of anyone hearing back from the automaker after submitting their application.
Now that FSD Beta has expanded to Canada, it appears they are either ready to try again, or they simply need more test drivers.
The job posting says it is a full-time position and will require whoever is successful to "be responsible to identify improvements and regressions across software iterations," – does that sound familiar?
If you get the job, here are some of your responsibilities:
Survey the local region and design routes with perspective scenarios for Autopilot testing.
Execute real-world testing according to test specifications, as well as providing ad-hoc support for specifically requested scenarios.
Analyze test data, triage software issues and abnormal vehicle behaviors using Tesla in-house designed proprietary software tools.
Before you apply however, you need to be aware there is also a long list of requirements, including:
Clean driving record and safe driving habits. Good navigation skills.
Experience working with various operating systems: MacOS, Windows, Linux. Comfortable navigating between files systems, managing data transfers.
Command Line Interface experience required.
You can read the full job posting and apply for the position here.