Just a few weeks after a spat with Tesla CEO Elon Musk on Twitter, Rep. Alexandria Ocasio-Cortez say she would love to sell her Model 3 and switch to another electric vehicle (EV).
In an interview with Bloomberg, Ocasio-Cortez said she would rather purchase an EV made by a company that employs unionized workers. Ocasio-Cortez said she first purchased her Model 3 after the COVID-19 outbreak in 2020 to help her travel between Washington and her Bronx-Queens district she represents.
"At the time, it was the only EV that could get me from New York to Washington on like one, or one-and-a-half charges. I would love to switch," she said.
The Democratic politician appears to have a change in heart just a few weeks after Musk responded to one her tweets.
On April 29, without mentioning names, she tweeted about "some billionaire with ego problems unilaterally [controlling] a massive communication platform." The tweet was a few days after Musk's bid to purchase Twitter was accepted by the company's board..
Musk simply responded "Stop hitting on me, I'm really shy," a witty response as Ocasio-Cortez has previously accused her own critics of wanting to date her.
Stop hitting on me, I'm really shy ☺️

— Elon Musk (@elonmusk) April 29, 2022
Ocasio-Cortez attempted to backtrack, responding that she was actually referring to Mark Zuckerberg, but deleted the tweet minutes later.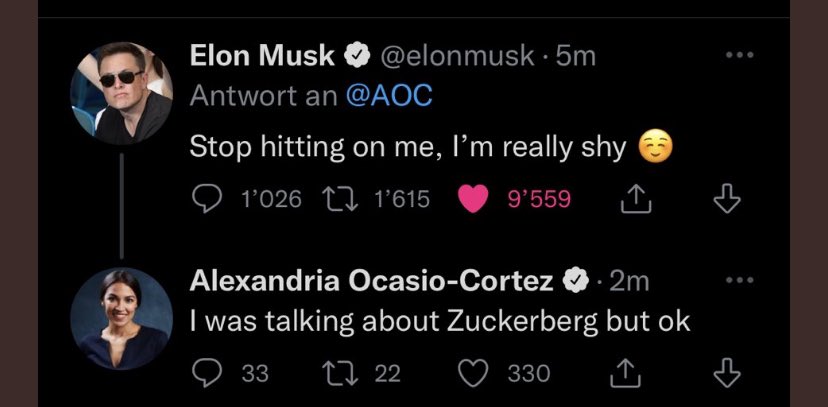 This isn't the first time Ocasio-Cortez has made headlines because of her Tesla.
In May 2021 her white Model 3 was photographed parked illegally outside a Whole Foods in Washington, DC.
BREAKING EXCLUSIVE: Multiple sources confirm AOC owns a Tesla, parked it illegally in front of the Whole Foods connected to her luxury apartment buildinghttps://t.co/39RmcnZMHG pic.twitter.com/iAgI0oKCW6

— Brent Scher (@BrentScher) May 19, 2021