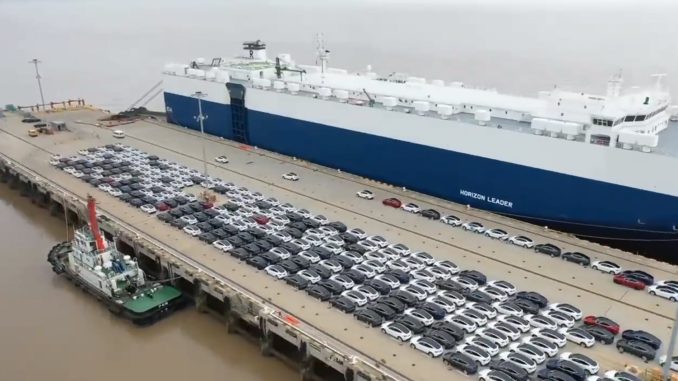 Even though Tesla's Giga Shanghai has been operating at a reduced capacity since reopening last month, crews at the factory have produced enough cars to allow the automaker to export its fourth batch of cars this month alone.
In a drone flyover video shared by Tesla China fan Jay in Shanghai (@JayinShanghai), thousands of Model 3 and Model Y cars can be seen being loaded onto the Horizon Leader cargo ship at the Luchao Port just outside of Shanghai.
According to Jay, the ship is heading to Europe.
CEO Elon Musk responded to the video, saying he has "so much respect for the Tesla Shanghai team."
This latest export should provide a boost to the automaker's May figures when they are published by the China Passenger Car Association early next month. In April, when the majority of the 22 day COVID shutdown took place, Tesla exported 0 cars out of the country, delivered 1,512 within China, and produced just 10,757 cars, well below their recent efforts which saw more than 50,000 units roll off the factory's production lines each month.
Giga Shanghai has slowly been able to ramp up production since reopening on May 19, operating on a single shift using a closed loop system where employees live and work at the factory in order to help stop the spread of COVID-19.
Tesla is working to add a second shift and return production to pre-shutdown levels, and eventually produce around 2,600 cars per day thanks to a recent $188 million project to launch the second phase of the production line optimization project.
You can watch the full video below.
https://twitter.com/JayinShanghai/status/1529892918651420672