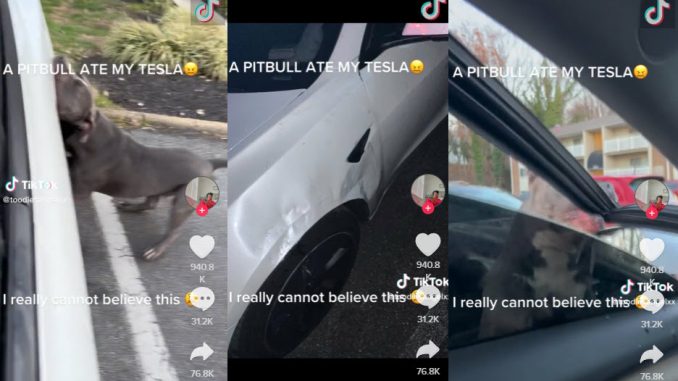 In what can only be described as a bizarre incident, a Maryland Tesla owner had to seek refuge in her Model 3 as a pitbull attacked and attempted to eat parts of her vehicle.
During the incident, the pitbull chewed one of the wheel arches before tearing off a piece of the Model 3's rubber moulding around the door frame.
It appears that the unleashed pitbull was going after the Tesla owner's dog and continued the attack on the car for several minutes.
Although both the dog and the woman escaped significant damage, the woman did have several bite marks and scratches from the attack.
Per the poster:
The attack started outside because he didn't have the collar on. I could run to my car with my dog and close the door, but he got my window before I could get it up.
The dog's owner offered to cover the woman's medical bills, the dogs vet bills and the Model 3's repair cost.
As per text messages that have made it to Tik Tok, the pitbull owner is putting the dog down as they do not want to see anybody else get hurt.
According to those messages, the pitbull did not have any previous history of aggression.