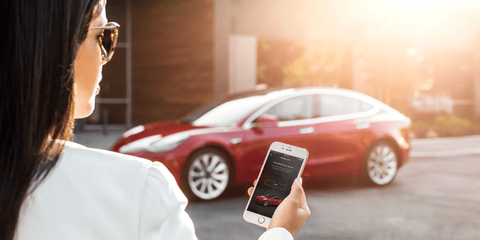 Tesla released their latest iOS update to the Tesla app last night, which contained bug fixes and improvements to existing features.
https://twitter.com/DriveTeslaca/status/1466580433416507395
However, hidden in the code the update also revealed that Tesla is ready to launch the ability to share access to your car through the app.
Tesla sharing allows owners to share their vehicles with up to five other drivers. The other drivers would need the latest version of the Tesla app and a Tesla account to accept.
Version 4.3.1 has been released here's what we've found:
-Sharing your Tesla vehicle with others
-Asset for vehicle sharing
-Endpoints related to vehicle sharing

That's about it in this update, if we find anything else we will add to this thread! Have a great night! pic.twitter.com/xkR7Qluk5z

— Tesla App Updates (iOS) (@Tesla_App_iOS) December 3, 2021
Besides giving access to the vehicle, Tesla sharing allows seamless transition from one driver to another. If there are issues the owner can revoke access at any time.
The account holder can even set up drivers access to expire if they are only driving for a limited period.
The feature is already available through the Tesla Account page, but the app addition is new.
Tesla's new DIY car sharing feature is now available in Canada
Although it is not live yet, the iOS update included the Tesla sharing image, text phrases and new APIs that reference the ability to share the vehicle. The feature is not live yet, but it will be coming by the looks of it.
Tesla has not confirmed when the feature is coming to the app, but it will launch soon by all indications. There is no word on if or when the same sharing features will be available on the Android app.