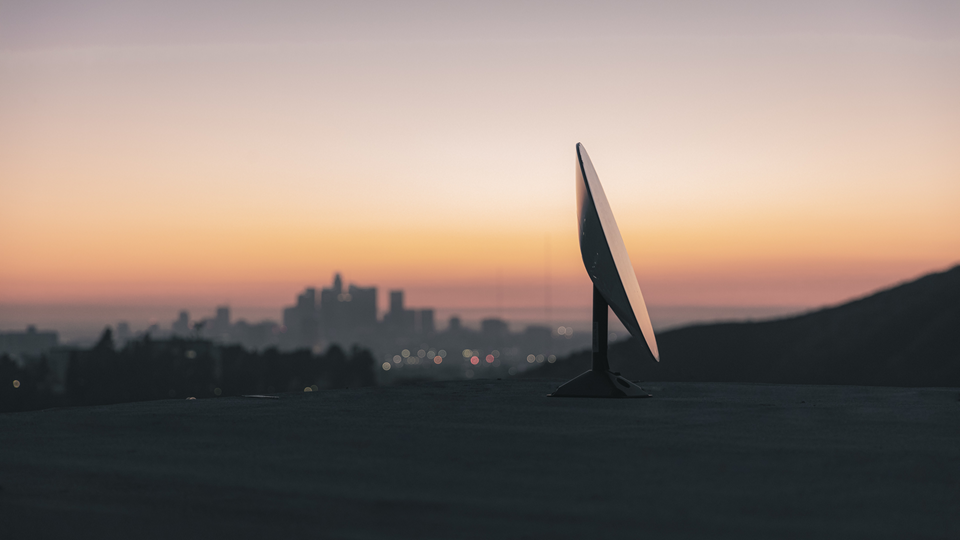 Earlier this week we reported that Starlink was beginning to send out emails to Canadians requesting their specific address as the beta testing program neared.
Based on feedback received from that article, users from around the world received the same email, including locations across North America and Europe.
Now one keen software engineer has revealed new details about the Starlink beta testing program by taking a closer look at the website's source code.
The details were posted to Reddit by user Bubby4j and includes things like pricing, installation instructions, beta testing locations, and more.
Beta Testing Locations
According to information found by Bubby4j, it appears as though Starlink will start the beta testing program in Canada and and the northern United States, with Washington State specifically mentioned. A specific latitude range was also found that covers roughly Minneapolis to Saskatoon.
"Starlink Beta will begin in the Northern United States and lower Canada, with those living in rural and/or remote communities in the Washington state area.
Access to the Starlink Beta program will be driven by the user\u2019s location as well as the number of users in nearby areas. All beta testers must have a clear view of the northern sky to participate."
Beta Testing Prices
Information around the pricing of being a beta tester was found in a FAQ document. It appears as though there will no fee other than a nominal charge to help test the billing system for once it becomes public.
"These charges are not a fee for the Starlink hardware or services, but are being requested exclusively to allow for the testing of our ordering and billing systems as part of this beta program.
SpaceX is temporarily loaning you the hardware and providing the internet services free of charge. The $1 will be charged 30 days after your hardware is shipped. This invitation is not transferable to any other address.
By clicking the above link you are activating Starlink Services and authorize regularly scheduled charges to the payment method on file."
Beta Internet Quality
For those hoping to replace their internet service with Starlink, you'll have to wait until it is officially released as the FAQ also reveals the service quality will be high, but will be intermittent.
Q: "How will my service quality be during Starlink Beta?"
A: "During Starlink Beta, service will be intermittent as teams work to optimize the network. When connected, your service quality will be high, but your connection will not be consistent. This means it may support streaming video with some buffering, but likely is not suitable for gaming or work purposes."
Beta Program Hardware & Installation
Beta testers will receive a Starlink Kit, delivered via FedEx, which will contain a Starlink Dish, Starlink Power Supply, and Starlink Router. Installation can be done by yourself, and can be mounted in several different ways. Code found references to Ridgeline Mount, Lawn Mount, Volcano Mount, and No Mount options, which will take anywhere from 5-10 minutes to as much as 180 minutes to install yourself.
Beta Program Services Terms
It looks like beta testers will have to sign a non-disclosure agreement to participate in the program. The agreement states that you will not be able to share any information about your experience outside of your household, including nothing on social media.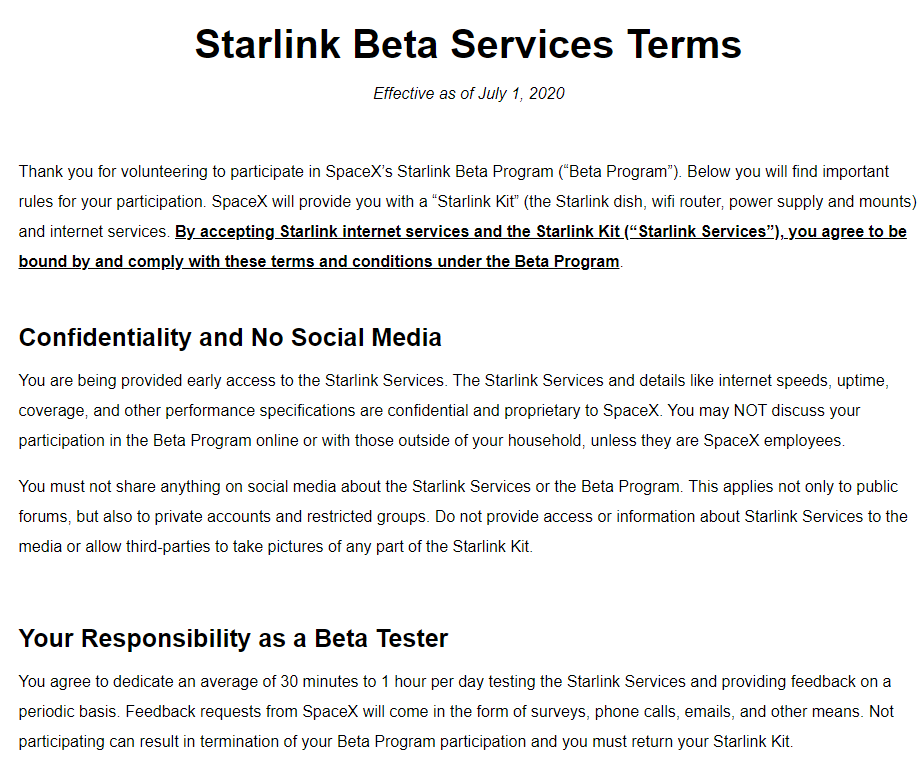 Unfortunately Bubby4j was not able to find any references as to when the program will officially begin. The Terms above do indicate an effective date of July 1, and along with recent address update requested by Starlink and targeted "Summer" start date, all signs are indicating it will start very soon.
Starlink currently has 540 satellites in orbit. SpaceX continues to send more into space, with the final goal of having nearly 12,000 in orbit for complete coverage around the globe.