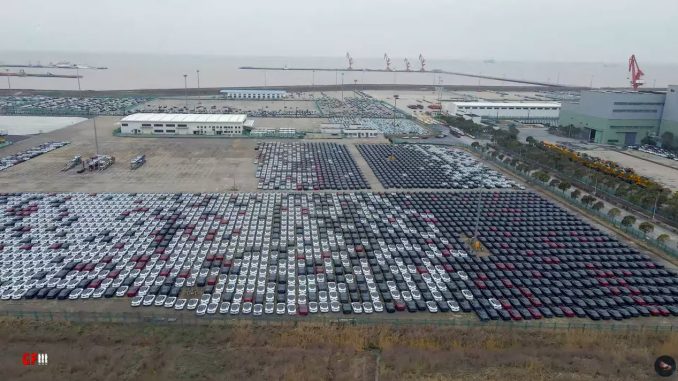 Giga Shanghai is cementing its status as the Tesla's primary vehicle export hub.
During a drone flyover the Luchao Port just outside Shanghai on Friday, a holding lot full of Model 3 and Model Y cars can been stretching as far as the eye can see.
There were so many, that the lot you see above wasn't big enough to hold them all. A second lot nearby was holding even more cars, and a third area was starting to fill up with even more.
Tesla enthusiast Sawyer Merritt took the time to count them, and pegged the total number of cars at more than 6,500.
What makes this latest drone flyover even more impressive is that these appear to be an entirely new batch of cars than the ones that were spotted in this same location just last week.
The huge number of cars waiting to be exported shows just how much Giga Shanghai has been able to ramp production in the two years since it opened.
Towards the end of last year the factory's monthly production rate was approaching 60,000 units, which when extrapolated to an annual basis works out to around 700,000 cars per year.
That number is only expected to go even higher in 2022. Tesla has started a $188 million project to expand Giga Shanghai's production capacity.
You can watch the full drone flyover below.