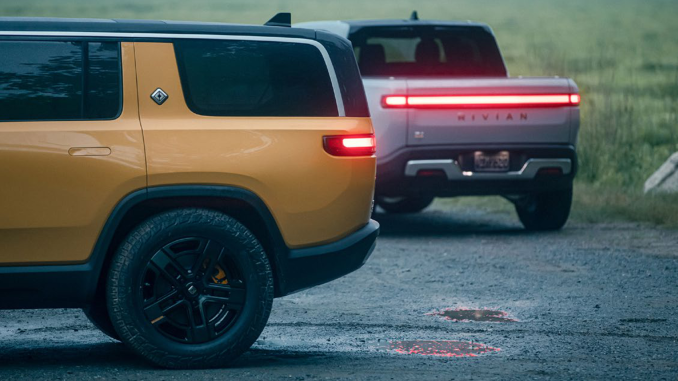 After a slow start to the year Rivian has been able to ramp production to new highs, setting new production and delivery records in the final quarter of 2022. While new records were set it wasn't quite enough for the automaker to reach its production guidance for the year, but they did come within inches of hitting their target.
At the start of the year Rivian was hoping to build 50,000 vehicles in 2022, but that number as quickly halved to 25,000 in March due to supply chain constraints. Through the first three quarters of the year Rivian had produced 14,317 vehicles, meaning they would have to produce 10,683 vehicles in the final three months of the year to reach their target.
According to an update from Rivian today they produced 10,020 vehicles in Q4, 36% more than in Q3, but it was unfortunately not enough. For the full year Rivian built 24,337 vehicles, missing their production goal by just 663 units.
UPDATE 5:45pm PT: According to an internal email sent by CEO RJ Scaringe, a copy of which was obtained by Drive Tesla, Rivian did actually meet their target in a way. A total of 25,051 Rivian's were driven off their production lines in 2022, but 741 of them were still considered "factory gated." This means they were off the general assembly line but were still awaiting software validation and wheel alignments (among a few other things) so could therefore not count towards their annual total. This is why there was a celebration at the factory on December 31 for the 25,000th vehicle produced that we reported on earlier this week. A full copy of the email can be found at the end of the article.
The automaker also announced they had delivered 8,054 vehicles during the same time period, a 22.3% increase from the previous quarter, giving them 20,332 deliveries in their first full year of operation.
For the first time that number includes a number of deliveries in Canada, although those specific numbers were not broken out in today's press release.
Rivian did not announce when it will publish its Q4 and 2022 full year financial report, but based on their history that will likely take place in early February. The company is hoping to improve on its performance in Q3 where it posted a net loss of $1.7 billion. That high rate of cash burn is likely the reason they pulled out of their agreement with Mercedes-Benz to jointly build electric delivery vans in Europe just three months after announcing the deal.
Along with pulling out of that deal, Rivian also recently informed reservation holders that the R1T with the Max Pack battery and Quad Motor configuration will no longer be produced for the foreseeable future.
Rivian (RIVN) stock was down 5.91% during today's trading session, and is down 0.05% in after-hours trading following the announcement.
Hi Team!  

I want to thank you for all your energy and collective effort as we closed our first full year of production. 0ur official production and delivery numbers for 2022:  

Q4 factory gated: 10,020
Q4 delivered: 8,054 


2022 factory gated: 24,337  
2022 delivered: 20,332 


2022 off the line: 25,051  

714 vehicles are currently being factory gated, including those awaiting parts, software validation, wheel alignment, upfits and charging. As they are not 100% finished, they can't count toward our official figure – however with more than 25,000 driving off General Assembly, this is an incredible achievement and testament to the commitment and passion of our entire team. Thank you! 

There were many headwinds in 2022. Considering the supply chain issues that caused the plant to close for 20 days and shut down early on 50 days in the last 12 months, and the inclement weather that forced us to close for an additional 5 days—our team stayed focused and worked through the challenges together. You stayed late, worked extra shifts, came in on holidays and worked through our operational challenges as we ramped. None of this is possible without you.   

As we look ahead to 2023, I'm more confident than ever in our success and ability to continue to ramp thanks to the drive and dedication of our team.   

Thank you all again,  

RJ