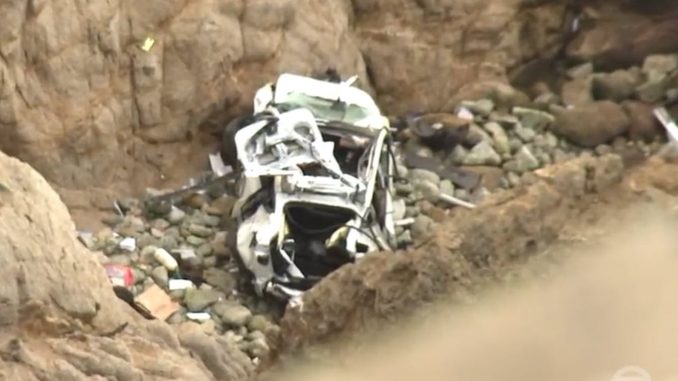 On Monday we told you about how a family of four, including a 4 year old boy and 7 old girl survived a 250ft fall down a steep cliff in their Tesla Model Y. The fact that the two children were unharmed and that their parents suffered only minor injuries was nothing short of miraculous, according to first responders who regularly attend similar calls at the area known as Devil's Slide who say that no one ever survives.
Unfortunately the story has taken a twist as authorities now say it was no accident and the father of the two children intentionally drove the Model Y off the side of the road. The California Highway Patrol, Golden Gate Division said that following their investigation, which included interviewing witnesses and analyzing the crash site, they determined it had been "an intentional act," without specifying what evidence led them to that conclusion.
The CHP announced on Tuesday that 41-year old Dharmesh A. Patel of Pasadena has been arrested and could face charges of attempted murder and child abuse.
"CHP investigators worked throughout the night interviewing witnesses and gathering evidence from the scene. Based on the evidence collected, investigators developed probable cause to believe this incident was an intentional act," the CHP said in a statement.
Patel is still in hospital but will be transported and booked into San Mateo County Jail upon his release. The San Mateo County District Attorney has not yet reviewed the case to determine if Patel will be charged, but CHP said they believe the charges are justified.
The incident occurred on Monday morning at around 11:00am on a stretch of highway about 20 miles south of San Francisco known as Devil's Slide. After leaving the road the Model Y tumbled about 250ft down the steep, rocky embankment, flipping multiple times before coming to rest on its wheels. Footage taken shortly after the accident shows one of the adults still in the car signaling for help, and later first responders removing the 4 year old boy from the car, who was miraculously unharmed.
The children were hoisted out of the crash site using ropes, while the parents were removed using multiple helicopters, which later transferred the family to hospital.
Multiple helicopters have been dispatched. One patient has been brought to the top of the cliff by firefighters. pic.twitter.com/QnoYrjTOOc

— CAL FIRE CZU (@CALFIRECZU) January 2, 2023
The story even drew the attention of Elon Musk, who responded to a Drive Tesla tweet saying "Good news" after it was discovered the children were unharmed and the parents suffered non life-threatening injuries.
Good news

— Elon Musk (@elonmusk) January 4, 2023