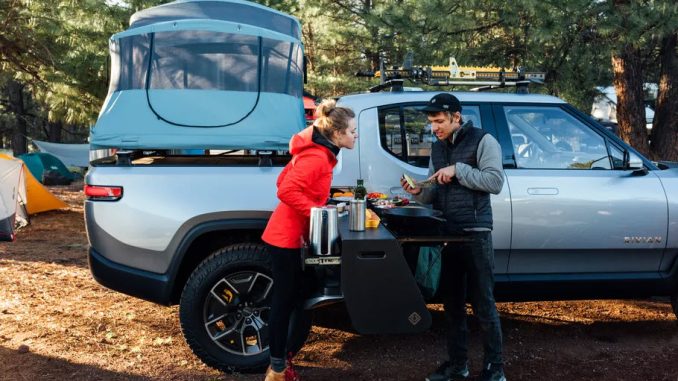 Rivian has so far borrowed a few feature ideas from Tesla, implementing their equivalent of Sentry Mode and Dog Mode with Gear Guard and Pet Comfort modes. According to Rivian's VP of Software Engineering, Wassym Bensaid, the automaker is planning to take another page out of Tesla's playbook and add Camp Mode later this summer.
Bensaid revealed the new feature is coming on the Rivian subreddit, a community which he now regularly takes part in. He was asked if the company was working on a low power "camping mode" that prevents battery drain from the doors and lights from turning on and off as owners move around a campsite.
The VP responded enthusiastically, saying Camp Mode is "one of the most exciting updates we are working on," while promising it would "exactly address this requirement."
He didn't provide an exact date for when the feature would be released, but did say it would be coming in the "late summer." (via Rivian Owners Forum)
Rivian has been one of the few automakers to truly take advantage of over-the-air (OTA) software updates for their growing fleet of vehicles. Other EV automakers claim OTA capability, but many require a visit to a dealership in order to download and install the update.
Rivian recently reported its Q2 production and delivery figures, and despite tough market conditions was able to more than triple their deliveries in the quarter.
It hasn't been all good news for the automaker though, as CEO RJ Scaringe is set to hold a meeting with employees on Friday to discuss potential layoffs and restructuring within the company.