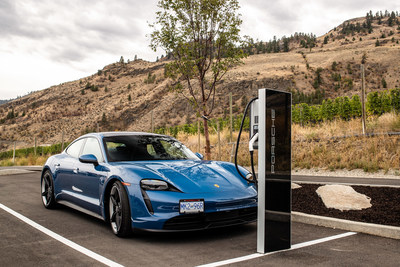 Porsche Cars Canada is expanding its Porsche Destination charging network to Canada. The Porsche Destination charging network  includes twelve locations.
However, as of the launch, there are seven active chargers. Some of the locations include: the Ritz-Carleton Toronto, Sofitel Montreal, CedarCreek Estate and Martin's Lane in British Columbia.
The charging stations will feature a Porsche-designed AC charger and accept any vehicles with a standard J1772 plug. The chargers are free to use.
The Porsche Destination charging locations are listed in the Porsche Charging NA app to allow for real-time navigation for customers.
Porsche Canada already has a series of DC chargers at Porsche dealerships and a partnership with Electrify Canada. Moreover, this newest expansion will help complement the growing national infrastructure to non-traditional locations around Canada.
The first set of Porsche Destination Charging locations see's seven charging stations with 14 chargers overall.
At the same time, the company plans to expand with an additional five charging stations.
In addition, Porsche noted that the company would continue to expand the program nationally.
The Porsche Destination program provides program partners with free charging hardware. They are encouraging companies and corporate groups to apply online to help grow the network across North America.