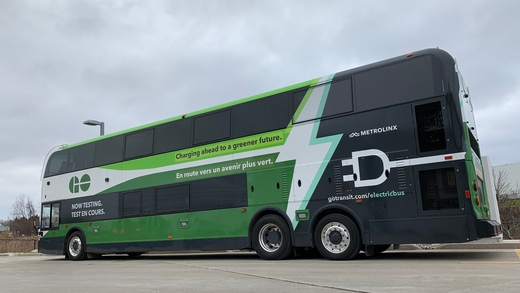 GO Transit riders in Ontario will soon be riding on a fully electric bus. The company has begun testing two double-decker electric buses to see how they handle Ontario's harsh winter weather.
Metrolinx announced the new buses on Monday, saying that initial testing will measure battery performance and safety features without customers on board.
In future phases of the testing in 2022, the buses will be added to select GO routes allowing customers to experience them first-hand.
According to Metrolinx, each bus is equipped with 9 battery packs, giving each one 648kWh of total energy. Despite the massive capacity, the buses can be fully recharged in 3-4 hours.
The new buses were also designed with passenger safety, convenience, and comfort in mind. Each seat features passenger seatbelts and USB chargers for personal electronic devices.
Passengers will also have access to luggage storage both inside and outside the bus.
⚡🚌 Meet the all-new, fully electric, zero-emission double-decker GO bus!

Click here for details on this pilot: https://t.co/pXX547wKYG pic.twitter.com/ImcRYnCgmf

— GO Transit (@GOtransit) December 13, 2021