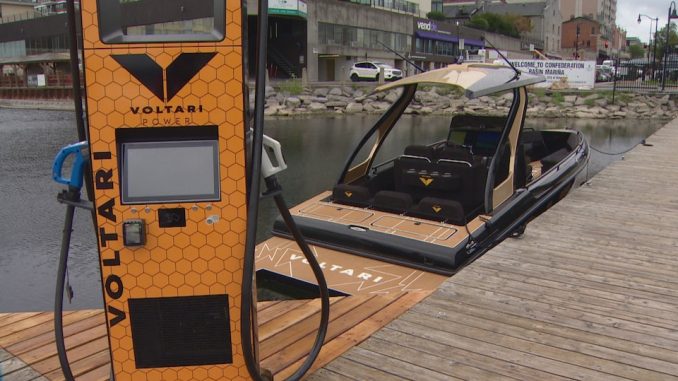 Kingston, Ontario is now home to Canada's first EV charger for marine vehicles. According to Global News, the charger is a partnership between the City of Kingston and Voltari Marine Electric.
Voltari is a small Ontario-based electric boat manufacturer based in Merrickville, Ontario.
Their electric boat model is currently for sale for just under $400,000.
The company chose Kingston for two reasons.
First is the city's commitment to green energy, and second is the town's strategic location.
Kingston, of course, sits at the mouth of the St Lawrence River and Lake Ontario and is home to a popular summer boating industry.
Shelley Hirstwood, director of business development at Kingston Economic Development, had this to say about the opening of the charger:
We see ourselves as a leader in this space. We instantly knew that this would be a great fit. Being right on the water and our passion for electric vehicles. So we're so pleased to welcome them.
The charger is located at Confederation Basin Marina, is open to the public, and will be free for the first year.
To give the greatest flexibility, the charger uses a standard automotive connector.
Voltari predicts that a typical charging session will be around 45 minutes from empty to full battery.