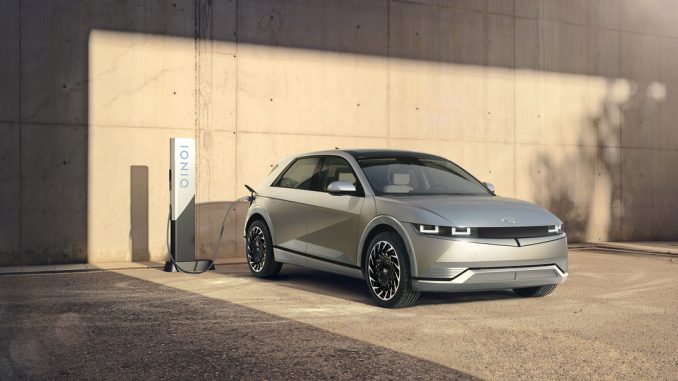 Hyundai unveiled their first all-electric vehicle, the Ioniq 5 in February of this year. Today the automaker confirmed the specifications for Canadian and US buyers, also revealing customers can place pre-orders next month.
The Ioniq 5 EV will be available with two different battery sizes in North America – a standard range 58kWh pack or a long range 77.4kWh pack.
It will also come in three different trim levels. The 'Essential' option will only be offered in a rear-wheel drive (RWD) configuration, while a 'Preferred' options will be available in both RWD or all-wheel drive (AWD) setups. An additional 'Ultimate' level will be offered as an add-on, but no details were provided on what differentiates each trim level.
Depending on the configuration, the estimated ranges will vary between 354km (219 miles) up to 480km (298 miles). These estimates have not yet been verified by NRCan or the EPA.
Essential RWD standard range – 354 km (219 miles)
Preferred RWD standard range – 354 km (219 miles)
Preferred AWD long range w/Ultimate package — 400 km (248 miles)
Preferred AWD long range – 435 km (270 miles)
Preferred RWD long range – 480 km (298 miles)
There will be a number of colour choices both for the exterior and interior.
Exterior
Phantom Black (Pearl)
Cyber Gray (Metallic)
Atlas White (Solid)
Digital Teal (Green Pearl)
Lucid Blue (Pearl)
Shooting Star (Gray Matte)
Interior
Obsidian Black Monotone
Dark Pebble Gray/Dove Gray
Dark Teal/Dove Gray
No pricing for North America has been announced. They should be revealed soon as the automaker did say customers will be able to place pre-orders "in the coming weeks."
Vehicles are expected in Canadian and US showrooms later this fall, with deliveries starting soon thereafter.
You can read more about the Ioniq 5 here.