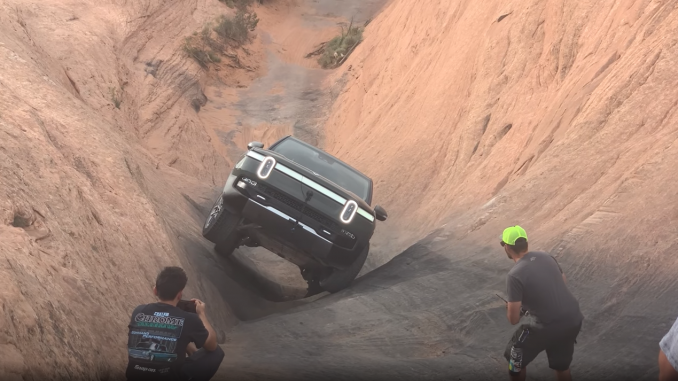 We have already seen a video of the Rivian R1S electric SUV tackling a very steep hill in Moab, Utah with ease. Now a new video has surfaced showing the R1T electric pickup truck tackling one of the most difficult off-road trails in Utah, and the results are just as impressive.
The video was filmed at Hell's Gate, which as its name implies is not for the faint of heart. The trail features a steep climb through a narrow opening between two peaks, with the incline reaching as steep as 45° at certain points.
Thanks to its adjustable suspension giving it high ground clearance and quad-electric motor setup providing torque-vectoring four-wheel drive, the R1T was able to easily maneuver itself up the hill.
Although it wasn't without a few heart-stopping moments. At one point the R1T looks ready to tumble down the hill with the right front tire a few feet off the ground and the left front tire barely making contact with the hill.
Making the accomplishment even more impressive is that it was done with a completely stock 2022 Rivian R1T. According to the video description the electric truck had "stock components and all terrain tires" with no extra tread and minimal amount of sidewall.
You can watch the full video below.