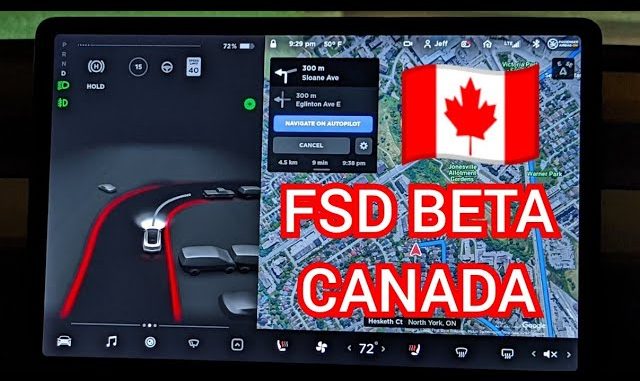 After a very long wait, Tesla has finally started deploying Full Self-Driving (FSD) Beta to owners in Canada.
The first downloads started appearing this evening with the release of the 2022.4.5.20 software update.
Currently Downloading it in Canada!!!

— Vincent Paquet (@vinssent) March 27, 2022
So far it appears as though FSD Beta 10.11.1 is being sent to Canadian owners with a perfect 100 Safety Score.
100%

— Vincent Paquet (@vinssent) March 27, 2022
UPDATE 11:02pm PST: We have our first report of a 99 Safety Score getting FSD Beta.
99 Safety Score and downloading the Beta!! @DriveTeslaca @WholeMarsBlog pic.twitter.com/QxlNpID6lj

— Harvey Birdman | 🇨🇦 FSD Beta Tester (@Harvey_Sp) March 27, 2022
The arrival of FSD Beta comes almost one month to the day after Tesla first released the Safety Score on February 26.
It was initially expected that the software would then be available one week later, but a series of delays has seen the date pushed back several times.
If you have received FSD Beta, let us know in the comments below what your Safety Score was.
UPDATE 10:09pm PST: We have yet to receive a report of a non-perfect Safety Score receiving the download.
Here are some early videos:
Wow the visualizations are beautiful pic.twitter.com/polgNBnYMr

— Gary 🇨🇦 – FSDBeta Tester (@akidesir) March 27, 2022
FSD Beta 🇨🇦 1st left hand turn!! pic.twitter.com/iCc6gQUITV

— Whatsupfranks (@WhatsupFranks) March 27, 2022
UPDATE 10:37pm PST: Here are the release notes, which are the same as 10.11.
FSDbeta 10.11.1 release notes!looks unchanged from 10.11. Off for my first drive now! #FSDbeta pic.twitter.com/JlrdqT99ya

— Zack (@BLKMDL3) March 27, 2022
This is a developing story, keep checking back for updates…