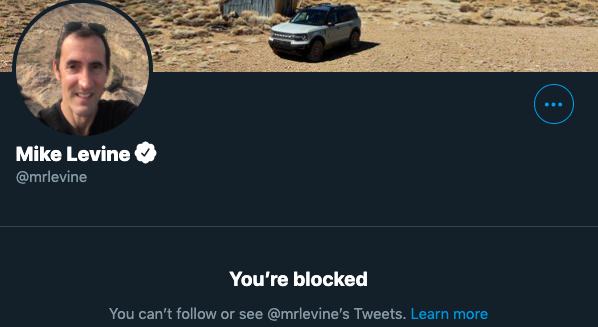 Ford introduced their first all electric vehicle (EV) earlier this year, the Mustang Mach-E. One of the Mach-E's biggest fans is naturally their Product Communications Manager, Mike Levine.
Levine has not been shy about his dislike for Tesla, making it appear as though part of his job description is to bash the world's #1 EV maker. In recent months he has called Full Self-Driving (FSD) "vaporware" and Tesla's range estimates "a crime", to name just a few.
He has also called out Tesla's pricing, saying they "bury the MSRP" on their website, while conveniently cropping the image to not show the MSRP is clearly shown on the page.
Lots of good conversation today about vehicle pricing. Here's Ford's approach: Put the MSRP right at the top and on the window. Tesla? Lead with theoretical "after gas" and local rebates pricing and bury the MSRP until you blow up your bank account at checkout. pic.twitter.com/dyFRlRO33N

— Mike Levine (@mrlevine) March 9, 2021
Levine's dislike for Tesla has been clear, and it has resulted in a lot of back and forth between himself and Elon Musk fans on Twitter. It has apparently become too much for the product communications manager, as he blocked hundreds of them this past weekend.
Communications manager. Best job ever. pic.twitter.com/GCr4NFOBZa

— 🔋Radoslaw Motylinski🔋 (@kedarus) April 25, 2021
My last tweet to him…. I wished him a happy birthday 😢 pic.twitter.com/cmd4bu7pCr

— 🐶Earl of FrunkPuppy🐶 (@28delayslater) April 25, 2021
Twitter was full of people reporting they had been blocked by Levine. And it wasn't just people he has had disagreements with, but even included some who had never interacted with him at all.
Mike Levine, @Ford North America Product Communications Manager, has blocked me… even though I never interacted with him, nor him with me 🤷‍♂️

In 2019, Ford spent $2.3 billion on advertising in the U.S.$F pays Mike to block people on social media 🤣 pic.twitter.com/VlGRkgvf7F

— ALEX 🚀 (@ajtourville) April 25, 2021
So .. I have never interacted with this guy on any platform tho I see his stuff here & there from the community. Wow. pic.twitter.com/dHz1CgSpuR

— •K10• ✨ (@Kristennetten) April 25, 2021
Obviously everyone is entitled to their opinion, and if people are being rude and harassing you on Twitter for no reason, then blocking them might be appropriate. But if you are going to openly bash Tesla (numerous times), and you are one of the top figures at a major legacy automaker, you should be picking your words carefully and shouldn't have to resort to a blocklist to weed out criticisms.
A word of advice for Mr. Levine – focus on the Mach-E and let the product speak for itself. If it's as good as you seem to think it is, you have nothing to worry about and you won't need to put down Tesla and their fans.