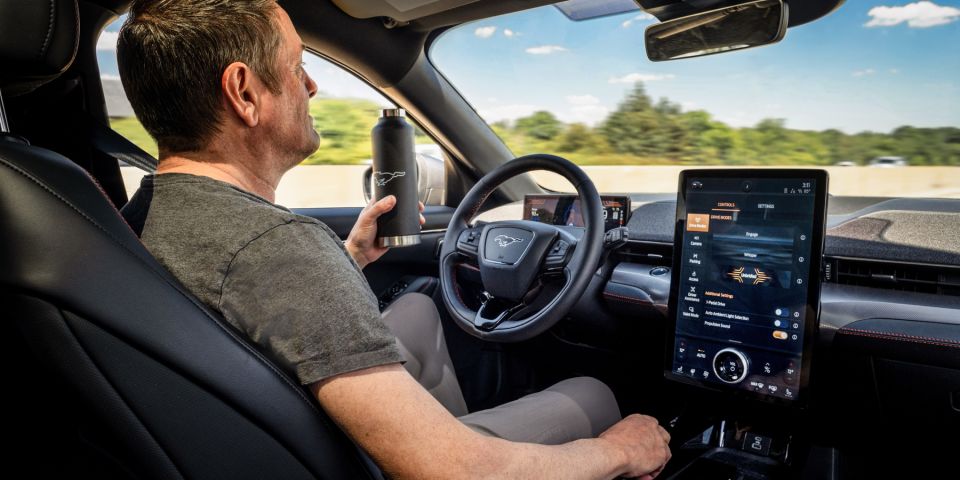 The Ford Mustang Mach-E, the automakers first fully electric vehicle (EV), has been delayed until 2021 in some markets, all thanks to the coronavirus pandemic.
To help take the sting off the delay, Ford has announced it has plans to install a new hands-free driving system in their EV in an attempt to take on Tesla's Autopilot.
The new feature will build on Ford's already established Co-Pilot 360 suite of driver assist technologies, which includes pre-collision assist with auto braking, blind-spot monitoring with rear cross-traffic alert, lane-keep assist, auto high-beams and a rear-view camera.
The higher level Assist Plus also includes adaptive cruise control, evasive steering assist, lane centering and voice-activated navigation.
The hands-free driving feature will display an animated picture of the steering wheel and the driver's hands. It will let the driver know when it is safe to remove their hands from the steering wheel, or to take control.
There will also be an infrared camera installed, which Ford claims will ensure the driver is awake and alert, even if they are wearing sunglasses.
When the feature is delivered, it will work on approximately 160,000km of pre-mapped roads across both the US and Canada. Map updates will be available to download and install over-the-air (OTA) or at the dealer.
According to Ford, the software won't be available until at least the second half of 2021, nearly a year after the first deliveries take place.
If those customers taking those first deliveries want the self-driving feature, they can opt to have the hardware installed during the manufacturing process.
Source: Ford