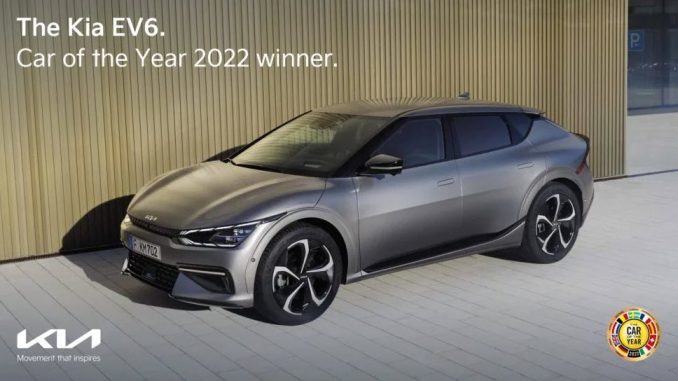 The Kia EV6, which has just started deliveries in Canada, has been named the European Car of the Year for 2022.
This is just the third time an electric vehicle (EV) has won the award, following the Nissan Leaf in 2011 and Jaguar i-Pace in 2017.
The EV6 wasn't alone at the top of the standing, with six other EVs placing in the top seven spots.
Only the gas-powered Peugeot 308 was able to break up the party, claiming fourth place in the rakings.
The EV6 was named the winner at the Palexpo exhibition centre in Geneva, Switzerland. The facility should have been hosting the Geneva International Motor Show, but it was cancelled for the third year in a row because of the COVID-19 pandemic.
A total of 59 journalists from 2022 countries voted in the 2022 edition of the awards, down from 61 as two jurists from Russia were excluded due to the Ukrainian crisis.
"It's a nice surprise to see the Kia EV6 receive this award. It was about time that the brand and the group were rewarded, as they have worked so hard on this car. Kia's pace of progress is really impressive." said the President of the jury of "The Car of the Year" Frank Janssen after announcing the results.
The Kia EV6 is the automaker's first dedicated electric vehicle, and has so far impressed new owners. The base model is priced below $45,000 in Canada, making all variants except the GT-Line packages eligible for provincial and federal rebates.
Here are the 2022 European Car of the Year results:
Kia EV6 – 279 points
Renault Mégane E-Tech Electric – 265 points
Hyundai Ioniq 5 – 261 points
Peugeot 308 – 191 points
Skoda Enyaq iV – 185 points
Ford Mustang Mach-E – 150 points
Cupra Born – 144 points