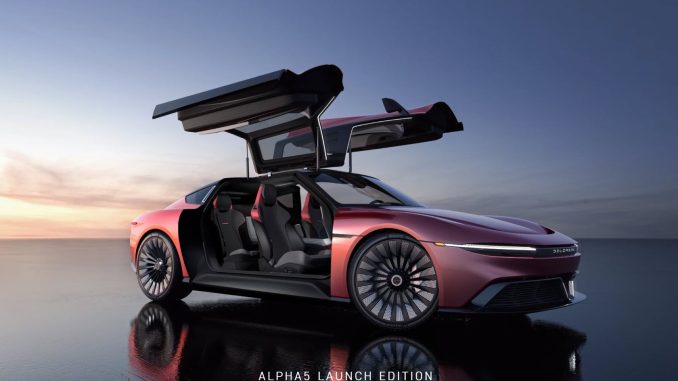 DeLorean Motor Company (DMC) has taken off the wraps of their first electric vehicle (EV), the Alpha5.-
Naturally we can't talk about DeLorean without talking about gull-wing doors. The Aplha5 EV features the same two iconic gull-wing doors found on the original DMC DeLorean, but unlike its predecessor the all-new EV is actually a four seater.
The interior images show the Alpha5 will feature two displays – one instrument cluster display behind the steering wheel, and another center display that unfortunately looks like it will be oriented vertically.
Also unlike its predecessor, which was only available finished in bare stainless steel, the website reveals the Alpha5 will come in at least two colours – white and red.
DeLorean didn't just reveal what the Alpha5 will look like, but also their planned specs for the EV.
The stats listed for the "Base Performance Model" include a 100kW+ battery pack that is estimated to provide over 300 miles (482km) of driving range on a full charge.
With a drag coefficient of 0.23, the Alpha5 will reach 60mph in a respectable 2.99 seconds, and continue speeding up to its top speed of 155mph (250km/h).
And if you're wondering, DeLorean also lists the 0-88mph time, which is estimated to be 4.35 seconds.
These specs and more will be confirmed when DeLorean debuts the vehicle on August 18, 2022 at the Pebble Beach Concours d' Elegance.
Until then, you can check out all the images of the DeLorean Alpha5 EV below. These images were shared on their website last night only to those who had signed up for early access. The full public reveal will take place later tonight at 9:00pm PST.