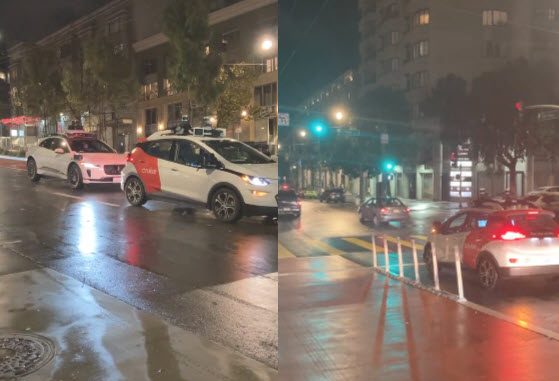 GM-owned Cruise is one of the leading players in the autonomous driving space. However, the company's test cars are not above malfunctioning as the team tries to work out kinks in the system.
A Twitter user spotted a Cruise-operated autonomous Chevy Bolt as it froze at an intersection.
Cruise has been trialing driverless operations using electric Chevrolet Bolts. The cars have reportedly covered more than half a million miles with no driver at the wheel, without recording major accidents.
However, the Bolt test vehicle @k_pendergrast spotted was not behaving as expected. In a video tweeted by the user, the car can be seen stationary at a traffic intersection while other cars with drivers went around it. The car does not move even as a green light is visible but is flashing its emergency lights.
Interestingly, another autonomous vehicle, a Waymo Jaguar I-Pace, got stuck behind it, but a safety driver quickly rescued it by taking over control of the vehicle.
Now a self-driving but accompanied Waymo has pulled up behind it, absolute chaos pic.twitter.com/KenpQ7b2Jw

— kelly p. (@k_pendergrast) December 4, 2022
@k_pendergrast explains the car froze for several light cycles.
Eventually, a technician showed up at the scene, clutching a laptop. This still didn't fix the Bolt's problem, and the technician manually drove the Bolt EV away from the scene.
It should be noted the Chevy Bolt blinked its light as a warning, which is what a driver having issues on the road is expected to do.
Despite this hiccup, Cruise has started offering autonomous rides during the day in San Francisco, using the same Chevy Bolts.
This is not the first time Cruise's autonomous vehicles have caused a traffic jam in San Francisco. In July several Cruise robotaxis shut down a multi-lane thoroughfare in downtown San Francisco. The vehicles would not move, causing a traffic jam lasting over two hours.
Cruise robotaxis shut down a San Francisco street for several hours