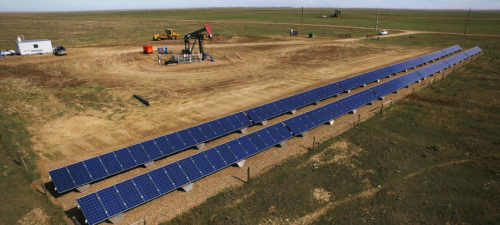 A major problem facing rural areas of Alberta is abandoned oil infrastructure. A problem that some experts estimate could cost as much as $70 billion to clean up.
But a new project is hoping to tackle the issue by converting abandoned oil and gas wells into solar energy projects.
Renuwell announced this week they had secured up to four sites in Taber, Alberta which will be converted over the next year with a variety of partners. When complete, the company says the energy generated by the sites will be used to power the local community, and could generate as much as $224,000 per year in power sales over 25 years, according to the Medicine Hat News.
Keith Hirsche, one of the founding members of the Renuwell team, explained that not only will the sites require little to no new infrastructure, they will also be reclaimed over the years.
"Effectively, we're just using the power connection that's in the prepared surface that the oilfield development has provided. We're also putting in native grasses and things like that for ground cover. So we'll be rebuilding the soil once the project is in place."
The Renuwell project says aside from environmental benefits, there are a number of economic benefits too. Landowners left stranded with abandoned wells will have new streams of revenue. Those landowners can also use the energy generated by the solar installations to power their farms.
Hirsche estimates if just 10% of the 90,000 abandoned sites in Alberta are converted to solar installations, their program alone could meet the province of Alberta's goal for power production.
Conversion of the first abandoned wells is scheduled to begin in the spring.