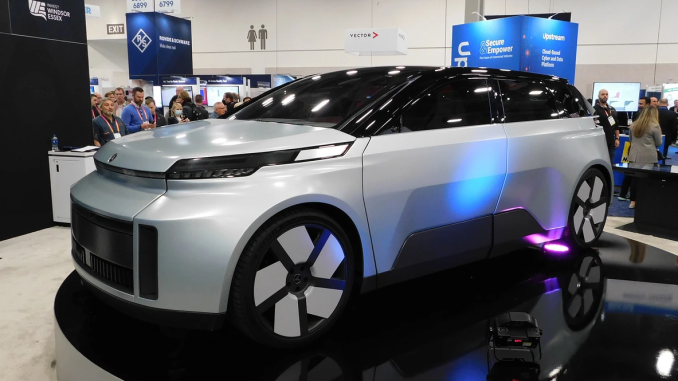 The world has seen the complete Project Arrow concept vehicle for the first time. Canada's Automotive Parts Manufacturer's Association (APMA) debuted Project Arrow this week at the Consumer Electronics Show.
The project was first announced at CES back in 2020, and was followed by an open competition for students across the country to submit designs, which was eventually won by a team from Carleton University in Ottawa. After a few sketches and a very small teaser last year, the full vehicle has now been shown off in Las Vegas this week.
Flavio Volpe, President of the APMA, noted this about the vehicle:
Today at CES, we reveal Project Arrow to the world with 25 new technologies. The Prime Minister dared us to imagine Canada's net zero mobility future, and the Premier of Ontario challenged us to build it.
#projectarrow– Canadas first all-Canadian EV – a collaboration of more than 50 Canadian car companies, @ontariotech_u ,@APMACanada ++ , makes its global debut at #CES2023 pic.twitter.com/tmh1MIYi3o

— Cristina Howorun (@CityCristinaH) January 5, 2023
Here it is, finally live in its 3D printed carbon flesh!

The whole Arrow team just knocked it out of the park, so proud to be a part of it!!

Wish I could get better pics but it's a mob scene, will try back later.@ProjectArrow_CA @APMACanada @ontariotech_u @UWaterloo @CES pic.twitter.com/VpVbvQNvLB

— Mad (Mostly Ukrainian) Hungarian 🇺🇦 (@IanPavelko) January 5, 2023
Although we are still waiting for the car's production version, we know it will cost about $60,000 per Driving.ca. The APMA is looking at a run rate of 50,000 units per year starting in the 2025 model year.
Project Arrow is a collaborative project that involves more than 50 Canadian companies. This means the powertrain, exterior, interior, battery, and software are all Canadian made. It features a 82.5kWh battery pack with a dual motor all-wheel drive powertrain. It doesn't have an official range yet, and the 0-60mph time is expected to be around 3.5 seconds.
Although the project is a private endeavour, Project Arrow has received more than $8 million of support from the federal and provincial governments of Quebec and Ontario.
It is not clear how the APMA will market the vehicle, the fact they unveiled the vehicle at a US show shows they could be planning a global product.
Are you interested in getting an Arrow once it becomes available or will you stick to the leading EV OEMs?
The official reveal of the first fully autonomous/EV Canada made vehicle…PROJECT ARROW! #CES2023 @APMACanada pic.twitter.com/8j5Nblk41M

— Kassem Nizam (@KassemNizamIWE) January 5, 2023