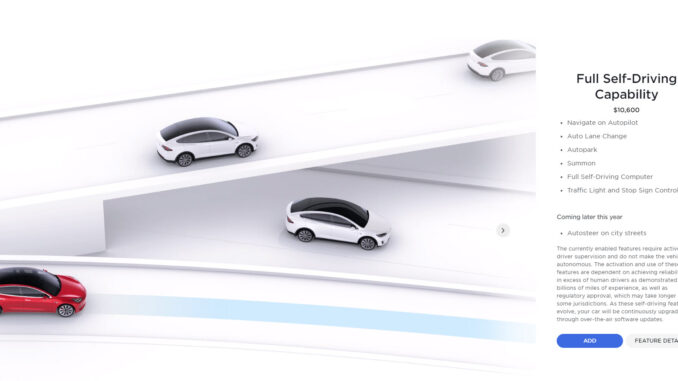 Tesla finally expanded the Full Self-Driving (FSD) Beta program to Canada, sending the latest version 10.11.1 to some owners last night.
While expanding the use of the software outside of the U.S. represents a big milestone for Tesla, it likely means a price increase for the Full Self-Driving Capability option is also coming to Canada soon.
It could also mean a monthly FSD subscription option could be coming soon.
FSD Price Increase
When the FSD Beta program was launched to a small group of public testers in the US in October 2020, Musk announced that Tesla was going to be increasing the price to purchase the suite of features by $2,000 just over one week later.
Hedging his bets for future releases outside of the US, Musk also said at the time that a "one week clock will start in other countries as beta is released."
Price change is pushed to Thursday next week. Applies only to US for now. One week clock will start in other countries as beta is released. FSD monthly rental will also be available sometime next year.

— Elon Musk (@elonmusk) October 22, 2020
If Tesla holds true that timeline and increases it by roughly the same amount, Canadians should see the price of FSD Capability increase by about $2,500 on or around April 2, 2022.
The suite of features currently costs $10,600, putting the potential new price somewhere around $13,000.
FSD Capability currently costs $12,000 in the US.
FSD Subscription in Canada
After several delays, Tesla launched a monthly FSD subscription option in the US in July 2021.
Owners could pay $199 US per month to receive all the FSD features ($99 if you have Enhanced Autopilot), making it an attractive option instead of having to plunk down $12,000.
Elon Musk has not commented on a subscription option coming to Canada, but with it already being available in the US there should be little preventing Tesla from offering the option north of the border.
If Tesla follows the same pricing structure, the FSD subscription should be about $250 per month in Canada, or about $125 per month if you have Enhanced Autopilot.
If you do subscribe and still have the older HW2.5 computer, you will also have to pay extra to get the latest HW3 computer.
Tesla charges customers in the US $1,500 for the upgrade, equating to about $1,900 in Canada.