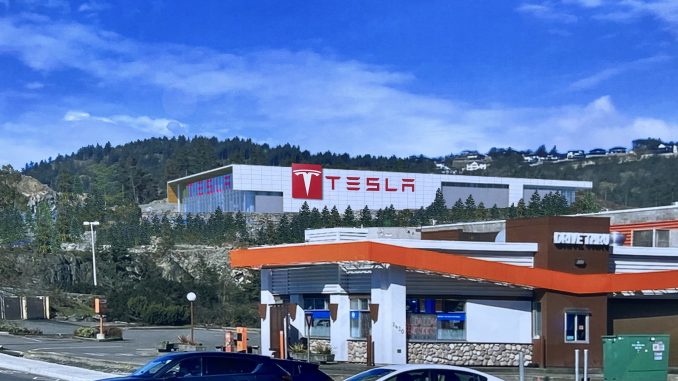 Tesla started construction work on a new Sales, Service, and Delivery Center just outside of Victoria in Langford, British Columbia after a special ground breaking ceremony in March.
Drive Tesla has now been able to obtain a copy of the building plans, revealing new details about the location, including that it will contain a small Supercharger station.
According to the plans the Supercharger will be located in the far northern corner of the lot where 4 V3 (250kW) stalls will be built.
While it is unfortunately a small station at only 4 stalls it will still add some much needed capacity to the Greater Victoria area, where the only other Supercharger is a 16 Urban (72kW) stall station at the Uptown Shopping Center about 13 minutes away.
UPDATE 10:08am PT: According to one of our readers who is involved in the project, these Supercharger stalls will not be available to the public and will be reserved for internal use only. The plans do show two "bollard for chain" will be installed on either end of the 7 parking stalls, so we are assuming a chain will be put up to keep owners from using the Supercharger.
While these will be the only Superchargers, there will also be nine Destination Chargers installed. One set of five will be near the Superchargers and another set of 4 will be in front of the main entrance to the building.
As for the Sales, Service, and Delivery Center itself it will be big at 34,980 square feet in size, the majority of which will be for service (31,566 sqft).
The plans reveal the service area will be equipped with 6 vehicle lifts in the center of the building, but space has been designated to add another 11 lifts in the future. A large area at the rear of the building has been set aside for parts and storage.
Owners bringing their cars in for service will be able to drive inside the building through a large overhead door, where there will be enough space for 4 cars to be parked before being driven into the service area.
There is also an interior wash bay, as well as 5 designated spots for pre-delivery inspections. After the new cars have been inspected and cleaned they are driven into a special delivery bay next the showroom.
The showroom will be 3,413 sqft in size and feature enough space for 3 vehicles to be on display. There will also be a customer lounge, conference room, offices, and a breakroom for employees.
Construction on the Langford Service Center is progressing quickly. Based on the current pace of construction we expect an opening sometime towards the end of Q2 or early in Q3 2023.
Editor's note: The headline of this article was updated after it was discovered the Superchargers will not be for public use.