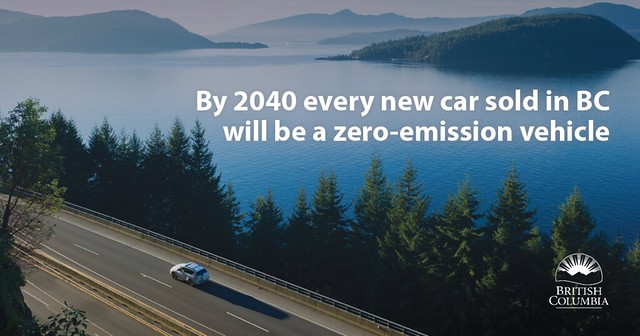 Electric vehicle (EV) drivers in British Columbia will find it a lot easier to drive around the province as a large expansion of EV charging infrastructure was announced today.
In total, 83 new EV charging stations will be installed from Vancouver Island all the way up to the northern parts of the province. The project will be funded by nearly $2 million from a combination of federal, provincial, and municipal governments, along with regional districts and First Nations communities.
The expansion in northern B.C. will be part of the Charge North project, which was formed by local governments to develop an electric vehicle (EV) charging station network of over 2,780km from south of Kamloops to Haida Gwaii.
"Expanding electric vehicle stations across northern, central and coastal B.C. will make clean transportation options more viable to more people," said Catherine McKenna, federal Minister of Infrastructure and Communities in a press release"
Vancouver Island will also see a large boost to the number of EV charging stations, with 28 of the 83 planned for communities like Parksville, Nanaimo, Tofino, Ucluelet, and others.
"By expanding the network of electric vehicle charging stations, we are making it more convenient for people on Vancouver Island to choose green methods of transportation. This investment will help reduce greenhouse gas emissions while ensuring people can get where they need to go efficiently," said Doug Routley, MLA for Nanaimo-North Cowichan.
Overall, the project is expected to double the number of Level 2 EV charging stations in impacted communities, which covers more than 300,000 square kilometers.
British Columbia has a goal to have 100% of new car sales be zero-emission by 2040, as part of the CleanBC program. To support that goal, the government recently announced new electric vehicle sales targets for automakers. Sales of EVs have already reached 10% of new passenger vehicle sales, five years ahead of schedule.
The following communities will see new EV chargers installed over the next year:
100 Mile House (two stations)
Ashcroft (two stations)
Barriere (two stations)
Burns Lake (one station)
Granisle (one station)
Haida Gwaii (four stations)

Masset
Queen Charlotte
Sandspit
Tow Hill

Houston (one station)
Kitimat (two stations)
Logan Lake (two stations)
McBride (four stations)
Nisga'a Nation (five stations)
Prince George (12 stations)
Prince Rupert (two stations)
Quesnel (two stations)
Smithers (two stations)
Stellat'en First Nation (one station)
Stewart (one station)
Sun Peaks (two stations)
Terrace (two stations)
Valemount (two stations)
Vanderhoof (two stations)
Village of Hazelton (one station)
Nanaimo regional district (ten stations)
City of Nanaimo (four stations)
Comox Valley Regional District (four stations)
Courtenay (three stations)
Comox (one station)
Cumberland (two stations)
Campbell River (one station)
Ucluelet (two stations)
Tofino (one station)