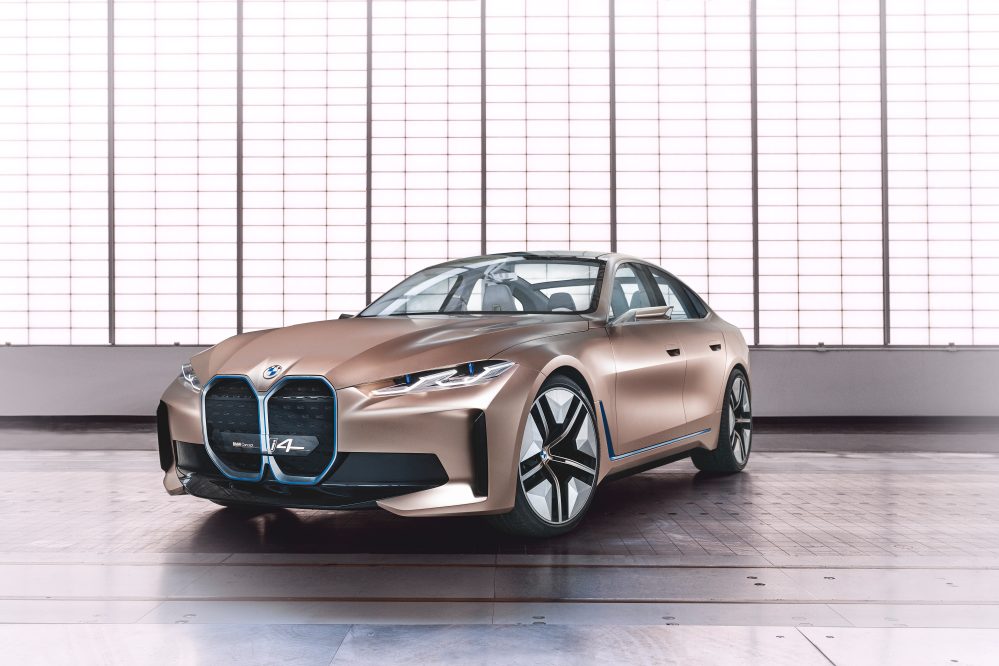 BMW officially unveiled their concept i4 electric vehicle (EV) during an online event at the same time it should have taken place at the cancelled Geneva Motor Show.
The vehicle is still a concept, but BMW promises to bring it into production in 2021. The specs as announced will be impressive if BMW is able to deliver.
The electric sedan will feature an 80 kWh battery, producing 530 horsepower, capable of launching the i4 from 0 to 100 km/h in just over in 4 seconds. It will have a top speed of more than 200km/h, and an estimated range of 600 kilometers, based on the often generous WLTP rating (expect the North American EPA rating to be lower).
There will also be three driver-selectable driving modes — Core, Sport, and Efficient.
The exterior design is typical BMW, but the kidney grille has been taken to the next level, and overpowers the design as it is the only thing you can focus on when looking at the vehicle from the front.
The interior design centers around a large display that wraps from behind the steering wheel into the center display. Since this is still a concept, there are likely to be some changes to the design, but BMW says the final production version will look similar.
"The new BMW Curved Display teams up with the steering wheel to reveal a new take on driver orientation and offers a look ahead to the display in the production versions of the BMW iNEXT and BMW i4. Here, the presentation surfaces of the information display and Control Display merge into a single unit inclined toward the driver. This screen grouping optimizes presentation of information and makes the display's touch operation more intuitive. Advanced display tech with non-reflective glass also removes the need for a shroud to shade the displays and therefore contributes to an extremely uncluttered and airy cockpit."
There were several cues during the presentation and in statements made that there will be some form of autonomous driving included with the i4, but no details were provided.
An official release date and pricing information was also not revealed. Check out the photo gallery, and video from Top Gear on the new i4 below.
Source: BMW