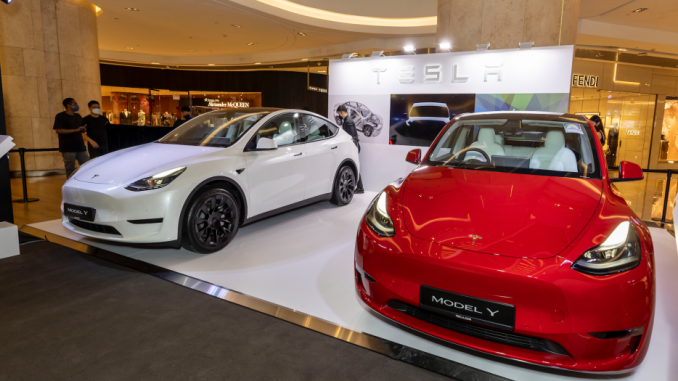 Tesla has the honor of owning the best-selling electric vehicle ever, the Model 3. However, the auto's crown is being threatened by another car by the same company, the Model Y, which is on track to top the sales chart globally.
The American company revealed that Model Y would become the bestselling car by revenue this year. In 2023, it will come ahead in terms of unit sales across all vehicle types. The Model Y is already the bestselling electric car, taking over from the more affordable Model 3.
Tesla has been producing the Model Y in Mercury Silver Metallic and Deep Crimson Multicoat colors at Giga Berlin.
CEO Elon Musk did predict the Model Y would double the Model 3 in demand even before the former hit the market. At the time, the Model 3 was already the bestselling electric car. Musk estimated in 2016 that demand for Model Y would be between 500,000 and 1 million annually.
Musk broke the news about Model Y's sales performance at Tesla's annual shareholder's meeting. He added that the ramp-up at Giga Texas and Giga Berlin would push the car into the bestseller spot next year.
The current bestseller is the Toyota Corolla, with about 1,150,000 units. While Tesla does not report individual sales figures for the Model 3 and Model Y, the company reports about 300,000 production capacity per quarter for the latter.
The first batch of Model Y has arrived in Australia.