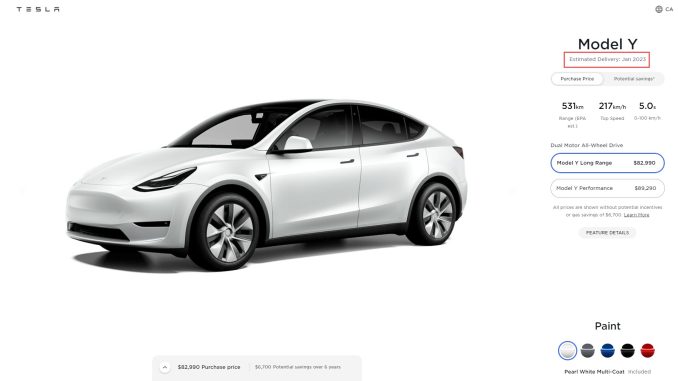 Even with two prices increases in less than one week, demand for the Tesla Model Y does not appear to be slowing down.
According to an update to the online Design Studio today, new orders for the entry-level Model Y Long Range will not be delivered until January 2023.
This lengthy wait time is only for a stock configuration. Adding any option, like upgraded paint or the 20″ Induction wheels reduces that wait time by three months to October 2022.
As we told you last week, adding the Full Self-Driving Capability option reduces that wait time even further to June 2022.
These delivery wait times are for orders in both Canada and the United States.
Facing increasing inflationary pressure and rising nickel prices, Tesla has made two rounds of price increases this month alone.
The first price change was limited to the Model 3 and Model Y Long Range and Performance variants, both of which contain nickel in their EV batteries.
That was followed up just five days later with price increases across the board for Tesla's entire lineup. Hardest hit was the Model X, which saw the Plaid variants increase by $15,800 in Canada and $12,500 in the US.
While this is the first time delivery wait times for the Model Y have extended into 2023, it is not the first time for a Tesla vehicle.
In November new Model S and Model X orders were showing a March 2023 delivery estimate, a date which has since been shortened to November 2022 for new orders placed today.
Customers in Europe currently have the longest wait time, as they have recently seen their Model 3 delivery estimates hit May 2023.
Tesla raises Model 3 prices in Europe as wait time grow to as long as 14 months