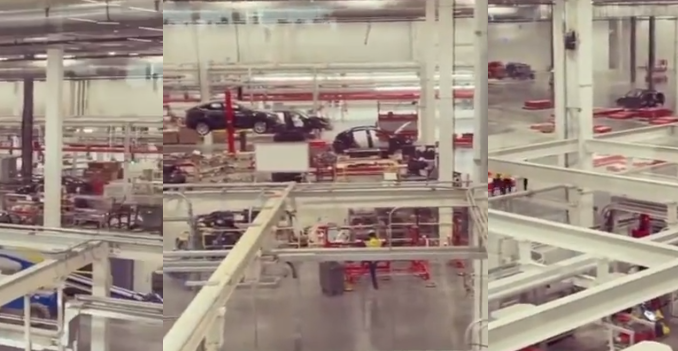 Tesla held the 2021 Annual Meeting of Stockholders in Austin, Texas yesterday, with CEO Elon Musk taking center stage for most of the livestream event.
It was a family event as Musk's mother and brother, Maye and Kimbal, were also in attendance. Thanks to their connections, it appears as though they got a behind the scenes tour of the factory while they were there.
Maye Musk shared a short video on her Instagram account revealing Model Y production is in full swing, at least in what is a testing and pre-production stage.
In the video we can see multiple Model Y cars on the production line, with one looking close to completion. Another two can be seen with no doors or wheels.
The line doesn't appear to be in operation at the time the video was taken, but several factory workers can be seen walking along the factory floor.
We already knew Tesla has
built the first pre-production Model Y
when a photo of the car appeared online last month. The person who posted the photo to Instagram later deleted it, indicating he likely wasn't supposed to be sharing the news with the world.
You can watch the full video below. (h/t: @TeslaOwnersEBay)
UPDATE: It looks like Maye Musk also wasn't supposed to share the video with the world and has deleted her Instagram post since we published this story. But the internet is forever so here is a copy of it.
https://twitter.com/teslaownersebay/status/1446332495260106754?s=21
 

View this post on Instagram