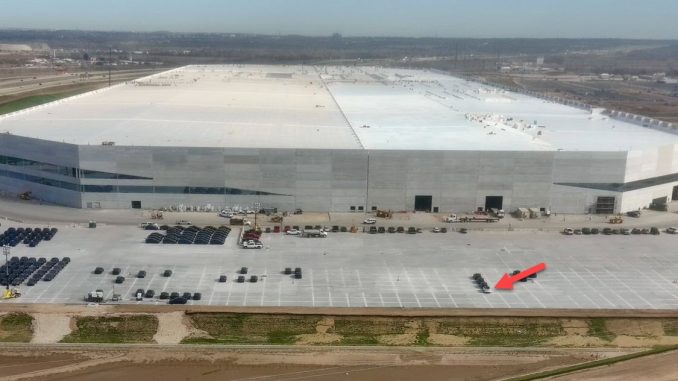 Over the last few weeks several hundred Tesla Model Ys have been accumulating outside Giga Texas in a holding lot at the south end of the factory.
All of those cars have been finished in either Solid Black or Deep Blue Metallic paint.
That has all changed now as for the first time a fully-built Model Y finished in Pearl White Multi-Coat has been spotted at Giga Texas.
The new addition was captured in a drone flyover of the factory on Saturday morning by Jeff Roberts (@peterdog15).
Unfortunately the only images we have are from a distance, but we will hopefully see more when Roberts uploads his flight to YouTube later today. We will update this article when that happens.
UPDATE 3:58pm PST: Here is the video. No close ups due to the recent developments of two drone pilots not being allowed to fly over Giga Berlin and Giga Shanghai. The Model Y appears at 4:30.
This sighting comes just over two weeks after the first white Model Y body was spotted outside the Paint Shop at the north end of the factory.
With Giga Fest Austin only a few weeks away, we still don't know for sure what battery packs these made-in-Texas Model Ys are being built with.
After the Q4 2021 earnings call we were all expecting them to feature structural battery packs with 4680 cells, but the recent addition to the EPA website of a new 279-mile range Model Y hints that Giga Texas might also be producing Model Ys with lithium iron phosphate (LFP) battery packs.
This possibility was also supported by the source code of a recent software update which included a new reference to a Standard Range Plus Model Y.
Tesla Model Y Performance cars and white Model Y body spotted at Giga Texas [Update – not Performance]