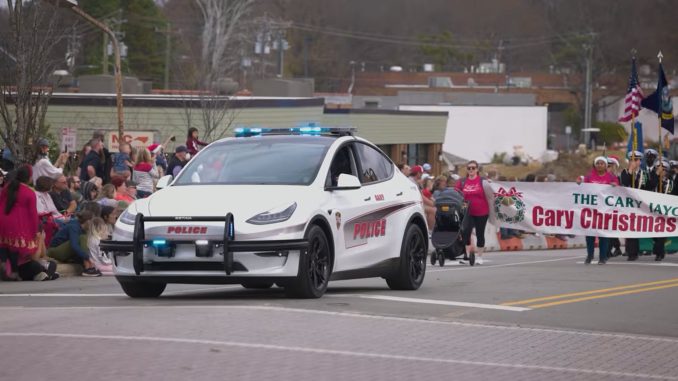 The Town of Cary, North Carolina used their annual Christmas parade to unveil their two brand new Tesla Model Y police cruisers.
The two new electric cruisers were approved by town council earlier this year and are part of a Tesla Pilot Program to expand the town's fleet of 'green' vehicles.
Did you catch Cary's new Tesla police cars taking a test drive in the Cary Jaycees Christmas Parade on Saturday? pic.twitter.com/hhmPtqSBsV

— Town of Cary (@TownofCary) December 12, 2021
According to Cary Town Council member Lori Bush, the $150,000 used to purchase and upfit the cars with the necessary equipment was funded using drug forfeiture money.
That $150,000 is about $8,000 more than if they were to purchase their traditional Ford Explorer SUVs.
As we have seen from many other police departments, that money will be quickly made up through lower fuel and maintenance costs.
The addition of the Model Y cruisers is the town's first step toward lowering their carbon emissions. The town also has an electric sanitation truck on order.
Ohio's Clinton Township purchases three Teslas for police and township use