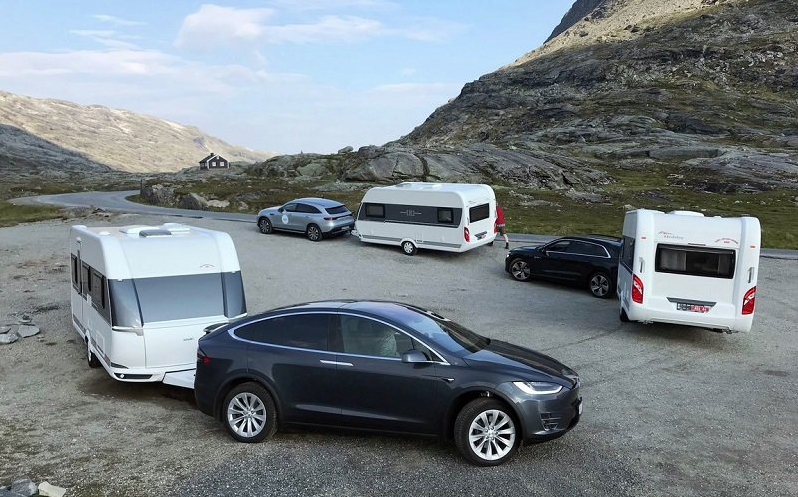 While we wait for the day that Tesla releases its much anticipated pick-up truck, the Model X is still a great option if you need to tow using an electric vehicle. This was confirmed last month by the Norwegian EV association, who pitted a Tesla Model X P100D (or Long Range) against its SUV EV rivals, a Mercedes Benz EQC and Audi e-tron.
Two of the vehicles have similar towing capacities, but the Model X leads the pack with a 2,267 kg/5,000 lb towing capacity. Tied for last in this test are the Mercedes-Benz and Audi with 1,800 kg/4,000 lb) towing capacities.
The test involved towing the same trailer over 3 days and nearly 1,400km, with the same three drivers (experienced at driving EVs and charging) alternating each day so that the driving style of each had an equal influence on the test.
After the 3 days, the results were clear that the Model X was much more efficient at towing, using far less energy than the others in the test. Not only that, it was also more efficient in regular driving without towing a trailer.
Consumption with trailer (Wh/km)
Tesla Model X P100D: 279 (27.9 kWh / 100 km)
Mercedes-Benz EQC 400: 306 (30.6 kWh / 100 km)
Audi e-tron: 353 (35.3 kWh / 100 km)
Consumption without a trailer (Wh/km)
Tesla Model X Long Range: 153 (15.3 kWh / 100 km)
Mercedes-Benz EQC 400: 163 (16.3 kWh / 100 km)
Audi e-tron: 185 (18.5 kWh / 100 km)
The results of this test confirm what many already know, and that is Tesla has created an electric motor whose energy consumption is far superior than the competition. The Mercedes EQC needed approximately 10% more energy to travel the same distance as the Model X, while the Audi e-tron needed nearly 30% more.
It will be interesting to see what towing capacity will be when the Model Y is released next year.
h/t [hibridosyelectricos.com]