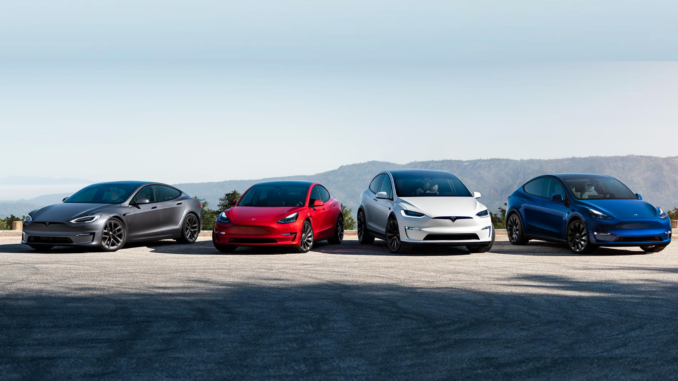 High demand and long delivery wait times have translated into a red hot used car market when it comes to Tesla vehicles.
According to a recent study four out of the eight fastest-selling used vehicles in March 2022 were Teslas.
Topping the list is the Model X, which based on a study by iSeeCars takes on average 28.0 days to sell.
While that figure is less than one day quicker than the second place Honda Insight (28.9 days), what makes the accomplishment remarkable is the average selling price of the two vehicles.
The Model X averages $90,406 USD, while the Honda is much more budget friendly at just $26,583, making it available to a much larger pool of buyers. iSeeCars Executive Analyst Karl Brauer attributes this to the long delivery wait times for the flagship electric SUV.
"The earliest delivery time for a new Tesla Model X is December 2022 for the base model and August 2022 for the high-performance Plaid version, which is further elevating the demand for the used versions," said Brauer.
But the popularity of Tesla vehicles on the used market doesn't stop there.
The Model Y placed fourth with an average selling time of 29.5 days and an average selling price of $65,409.
Next up was the Model S in seventh place, selling on average for $85,103 in 34.4 days.
Finally, and surprisingly, the Model 3 place eighth at an average price of $49,394 in 34.7 days.
Only one other battery electric vehicle was able to crack the top 10. The Ford Mustang Mach-E came in tenth place selling in 35.1 days for an average price of $58,934.
Ford recently stop taking orders for their electric SUV in the US citing high demand, meaning customers have to either find a dealer with a 2022 model in stock, or wait for the 2023 model to be released.
To come up with their figures, iSeeCars analyzed over 150,000 new and used car sales (model years 2016-2020 for used cars) from March 2022.
Here is the full list of the top 20 fastest-selling used vehicles.
Top 20 Fastest-Selling Used Vehicles in March 2022 – iSeeCars Study
Rank
Vehicle
Average Days to Sell 
Average Price
1
Tesla Model X
28.0
$90,406
2
Honda Insight
28.9
$26,853
3
Hyundai Ioniq Hybrid
29.4
$24,098
4
Tesla Model Y
29.5
$65,949
5
Toyota Prius Prime
32.8
$29,163
6
Mazda Mazda3 Sedan
34.3
$25,157
7
Tesla Model S
34.4
$85,103
8
Tesla Model 3
34.7
$49,394
9
Chevrolet Volt
35.0
$23,026
10
Ford Mustang Mach-E
35.1
$58,984
11
Kia K5
35.4
$32,153
12
Toyota Highlander Hybrid
35.7
$45,416
13
Toyota Sienna
35.8
$50,398
14
Toyota RAV Hybrid
36.9
$37,596
15
Audi Q7
37.2
$48,040
16
Genesis G70
37.7
$38,937
17
Jaguar XE
37.9
$30,581
18
Audi Q3
37.9
$33,863
19
Toyota Prius
38.0
$26,980
20
Audi A6
38.1
$38,411
Average for All Used Vehicles
52.9
$35,297