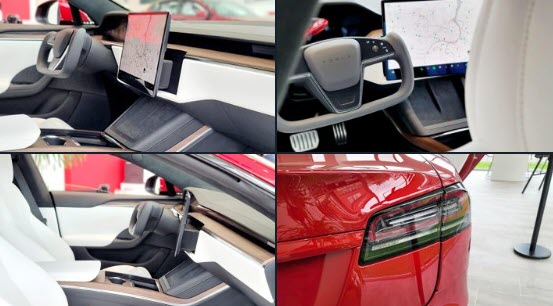 Earlier this year Tesla brought a refresh Model S and Model X to Taiwan to put on display for the first time outside of North America.
However the Model S was mysteriously covered up during a private viewing ahead of the public being invited in to see the flagship vehicles.
That same Model S is back on display in Taiwan, and it looks like the reason it may have been hidden from public view is that it had the motorized screen tilt feature enabled.
Photos of the red Model S shared by DDCar show the 17″ center display facing the driver, just hours after the feature was first appeared in a newly delivered Model S in southern California.
The screen tilt, or screen pan if we're being technically correct, was originally promised to be in the refresh Model S and Model X when they were first announced in early 2021.
References to the feature were removed from Tesla's website before deliveries began, although all of the hardware was still present in the vehicles, minus the most important piece, the motor to power it.
Tesla has not officially commented on the addition of the feature, so it is unclear if existing owners will be able to receive a retrofit to activate it in their cars.
Tesla unveils new CCS2 charge port in refresh Model S/X [Update]