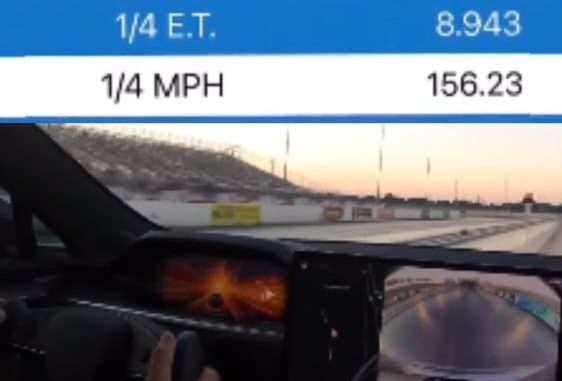 A Tesla Model S Plaid has set a new unofficial record for the fastest quarter-mile time of any production car in history.
According to a video shared by DragTimes on Instagram, @situation_coyote ran a blistering 8.943 second quarter mile, crossing the line at 156.23mph.
No further details were provided on where the run took place, or what modifications, if any, were present in the Plaid.
Unfortunately the video is extremely poor quality, but here it is. (updated with original video quality)
 

View this post on Instagram

 
Given this smashes the previous unofficial record by a full five tenths of a second, it is likely that this Model S Plaid had the interior gutted resulting in several hundred pounds of weight savings.
If the image shared of the car is accurate, the time was set with the stock 21″ Arachnid wheels.
UPDATE 11:26am PST: The caption on the original video confirms the interior was stripped and it was on the stock wheels.
The previous record was set just a few months ago in Maryland International Raceway.
With most of its interior stripped out, a black Model S Plaid crossed the line in 8.994 seconds at 155.10mph.
Modified Tesla Model S Plaid breaks 9-second quarter mile barrier