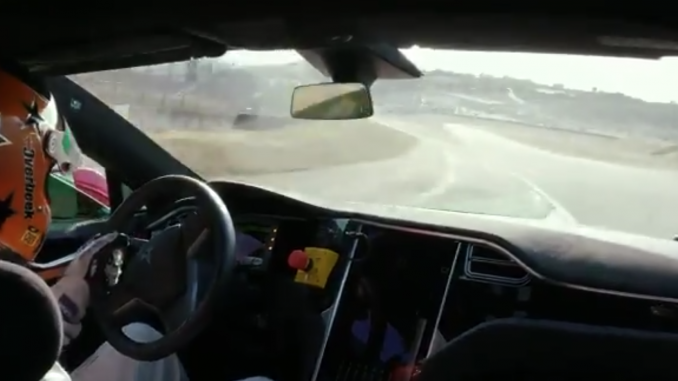 During the company's Battery Day event earlier this week, Tesla CEO Elon Musk finally announced the tri-motor Plaid Model S.
Save with big discounts at your favourite Tesla accessories stores, like 10% off at Tesmanian, TesBros and Nikola Pro, plus many more. Coupon codes at DriveTeslaCanada.ca/deals.
With the announcement came a new video of the super-fast EV lapping Laguna Seca at eye popping speeds, beating its previous time around the same track set just one year ago by nearly 5 full seconds.
One of the biggest questions that appeared after the video was released was who was the behind the wheel. We now have the answer, after the mystery driver posted the same video to his YouTube channel.
As it turns out, the driver is Sebastian Vittel, not to be confused with the slightly more famous Sebastian Vettel, German Formula 1 racing driver who races for Scuderia Ferrari.
This Sebastian is a seasoned Nürburgring driver, having driven numerous Tesla's in the past and high performance Porsche vehicles around the famous track if his Instagram account is anything to go by.
Get 10% off at Tesloid.ca or Tesloid.com with coupon code DTC10 at checkout. Quality Tesla accessories with FREE shipping across Canada and the US.
According to the description on the video, the Model S was outfitted with Michelin Sport Cup 2 tires. The tires were extra special as they had a specific compound not currently available on the market, but will be by the time the EV is available next year. For a comparison he said they were very similar to the Cup 2 R tires.
Vittel also revealed the only interior modification was removing the driver seat for a bucket seat for his safety through the high speed corners.
We also know the Plaid Model S will be making its way back to Germany soon, with Vittel commenting, "Next stop at the nurburgring, i can't wait so stay in touch."
The tri-motor Plaid Model S will have an unbelievable 840km+ of range, a top speed of 320km/h, be able to reach 100km/h in less than 2.1 seconds, and to top it off complete the 1/4 mile in under 9 seconds. To get all that, you'll have to pay $189,990 CAD, which you can reserve now with a fully refundable deposit of $2,500 CAD.
Check out the full video below. The sound of that tri-motor powertrain never gets old!
Source: Reddit