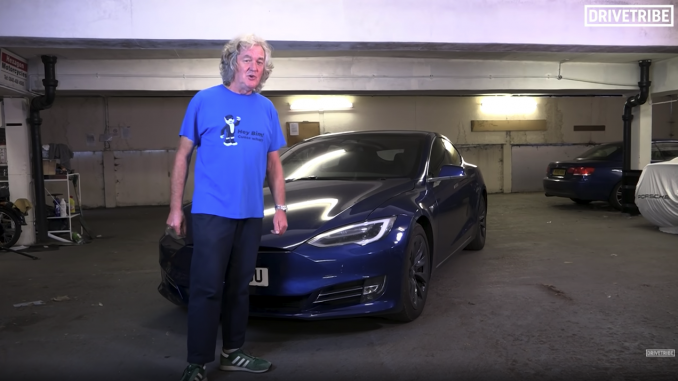 Late last year James May, the former host of BBC's popular Top Gear auto show, revealed he bought his first Tesla – a Model S 100D Long Range.
In his first video, Captain Slow (as he was known on Top Gear) talks about his first impressions with his new car. He noted the bland interior, and was quite enamoured with the frunk, or as he referred to it, the fr-boot.
After a little more than half a year of ownership, May has revealed in a new video his list of the six things he dislikes most about his Model S.
In typical May fashion, the first is that the car is dirty, so really he has only found five things he doesn't like on his Tesla.
Of those five things, several of them could be fixed if May took the time to read the owner's manual. Take for example how he doesn't like that the door handles don't auto-present as he approaches the vehicle. A simple change in the settings to "Passive Entry" would easily correct this.
His other dislikes in the video are pretty minor, and if anything are personal dislikes about the car rather than anything materially wrong with the EV.
As he notes at the end of his video, while he did find six things he dislikes, his list of likes for the Model S is MUCH longer.
Check out the full video below, and let us know in the comments below what your biggest dislike is of your Tesla.