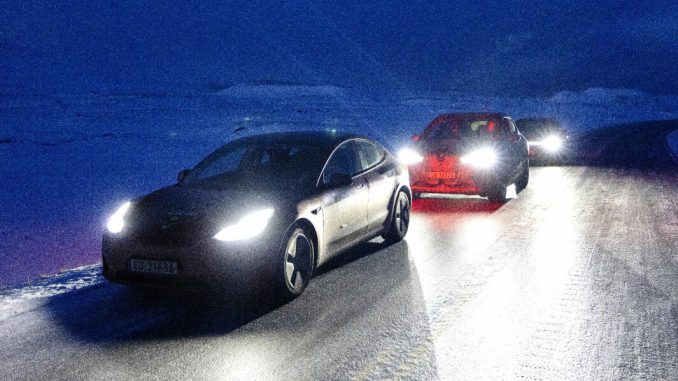 Despite having a more range on paper, the Mercedes Benz EQS 580 was no match for the Tesla Model 3 Long Range in a recent cold weather range test in Norway.
The winter test, conducted by the Norwegian Automobile Federation (NAF) the automotive publication Motor, put a total of 31 electric vehicles (EVs) on the road to see which one could drive the furthest.
The test was also conducted to see which EVs saw the largest deviation from their stated range when driven in cold temperatures.
With temperatures ranging between 0°C to -10°C (14°F to 32°F), the Model 3 Long Range topped the list of longest distance travelled at 521km (324 miles).
The Model 3 was also among the leaders in terms of deviation, seeing only a 15.5% drop from the WLTP rated range of 614km.
The EQS 580 has a WLTP rated range of 645km (400 miles), but was only able to travel 513km (318 miles), more than 20% less than when in optimal conditions.
Also among the group of cars tested was the Model Y Long Range, and it too impressed with a fourth place finish with 451km, just 11.05% less than expected.
Motor noted the Model Ys results were particularly impressive because the last 16km (10 miles) of its drive was in colder temperatures and on more of an incline than the BYD Tang, which topped the results with just 11.05% deviation.
Here are the full results of the test. (h/t: Haakon Bolstad)
| | | | |
| --- | --- | --- | --- |
| Model (temp. Varied from 0 ° to -10 °) | WLTP numbers | STOP | Deviation |
| Tesla Model 3 LR Dual engine | 614 km / 14.7 kWh | 521 km | -15.15% |
| Mercedes-Benz EQS 580 4matic | 645 km / 18.3 kWh | 513 km | -20.47% |
| BMW iX xDrive50 | 591 km / 21.4 kWh | 503 km | -14.89% |
| Tesla Model Y LR Dual engine | 507 km / 16.9 kWh | 451 km | -11.05% |
| Volkswagen ID.3 PRO S | 539 km / 16.3 kWh | 435 km | -19.29% |
| Kia EV6 2WD | 528 km / 16.5 kWh | 429 km | -18.75% |
| Kia EV6 4WD | 484 km / 18.0 kWh | 428 km | -11.57% |
| NIO ES8 LR 7-seater | 500 km / 21.5 kWh | 425 km | -15.00% |
| Volkswagen ID.4 Pro | 485 km / 18.4 kWh | 414 km | -14.64% |
| Hyundai Ioniq 5 2WD | 481 km / 16.8 kWh | 408 km | -15.18% |
| BMW i4 M50 | 497 km / 19.0 kWh | 406 km | -18.31% |
| Skoda Enyaq iV80X | 477 km / 18.2 kWh | 403 km | -15.51% |
| Porsche Taycan 4 Cross Turismo | 456 km / 22.4 kWh | 402 km | -11.84% |
| Polestar 2 LR Single motor | 517 km / 18.6 kWh | 400 km | -22.63% |
| Audi e-tron GT | 463 km / 21.1 kWh | 392 km | -15.33% |
| Xpeng P7 | 470 km / 19.4 kWh | 383 km | -18.51% |
| Audi e-tron Q4 40 | 485 km / 18.6 kWh | 380 km | -21.65% |
| Hyundai Ioniq 5 4WD (19-inch) | 460 km / 17.7 kWh | 369 km | -19.78% |
| Hyundai Ioniq 5 LR 4WD (20-inch) | 430 km / 17.7 kWh | x | x |
| BYD Tang | 400 km / 21.6 kWh | 356 km | -11.00% |
| Volkswagen ID.4 GTX | 475 km / 18.6 kWh | 353 km | -25.68% |
| Audi e-tron Q4 50 four | 459 km / 19.1 kWh | 349 km | -23.97% |
| Skoda Enyaq iV80 | 509 km / 17.7 kWh | 347 km | -31.83% |
| Tesla Model 3 SR | 448 km / 14.0 kWh | 346 km | -22.87% |
| Polestar 2 LR Dual motor | 476 km / 20.2 kWh | 340 km | -28.57% |
| Polestar 2 LR Dual motor (with luggage) | 470 km / 19.5 kWh | x | x |
| Cupra Born | 395 km / 15.4 kWh | 339 km | -14.18% |
| Volvo C40 Recharge | 437 km / 21.1 kWh | 333 km | -23,80% |
| Mercedes-Benz EQA 250 | 401 km / 17.7 kWh | 331 km | -17.46% |
| BMW iX xDrive40 | 402 km / 20.7 kWh | 316 km | -21.39% |
| Mercedes-Benz EQB 350 4matic | 407 km / 18.1 kWh | 315 km | -22.60% |
| Opel Mokka-e | 338 km / 16.2 kWh | 263 km | -22.19% |
| Peugeot e-2008 | 320 km / 15.6 kWh | 228 km | -28.75% |
Source: Motor.no