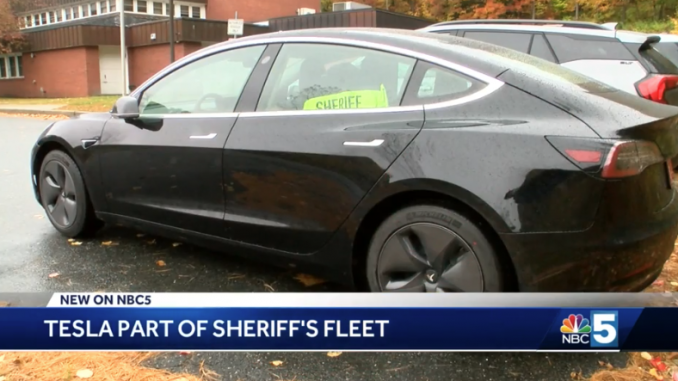 Yet another police force in the US is testing out a Tesla Model 3 to potentially replace its traditional internal combustion engine (ICE) patrol vehicles.
Save with big discounts at your favourite Tesla accessories stores, like 10% off at Tesmanian, TesBros and Nikola Pro, plus many more. Coupon codes at DriveTeslaCanada.ca/deals.
The Windham County Sherrif's office in Vermont welcomed the Model 3 this week as part of a pilot project to add alternative energy vehicles to its fleet.
According to Sheriff Mark Anderson, the Tesla was chosen to replace an aging 2013 SUV after finding out the cost was close to what they would have had to spend on a traditional patrol vehicle.
"The Model 3 has checked off a variety of goals for us, but one primary factor was the cost savings," Anderson told NBC5 News. "We predict a fuel and maintenance savings up to 80% based on our current fleet expenditures."
The Model 3 will initially be used as an administrative vehicle while officers become more familiar with the hi-tech electric vehicle.
Adding a Tesla as a patrol vehicle is becoming more common these days. Probably the most well known case is from Bargersville, Indiana, where police chief Todd Bertram recently revealed the huge cost savings from his Model 3 after one year on the job.
Get 10% off at Tesloid.ca or Tesloid.com with coupon code DTC10 at checkout. Quality Tesla accessories with FREE shipping across Canada and the US.
Unfortunately we have yet to hear of any Canadian police departments consider adding a Tesla to their fleet. If you know of one, please send an email to tips@driveteslacanada.ca.