The Tesla Model 3 has continued its hot streak in France, staying near the top of the EV sales chart in May and maintaining its overall sales lead in 2021.
Following an impressive first quarter, French citizens have continued to show their affinity for the American automaker by purchasing 2,111 Model 3's in May. That was good enough for second place in monthly plug-in sales according to data from EV Sales Blog.
Only the hometown Renault Zoe was able to outsell the Model 3 registering 2,577 sales.
The Volkswagen ID.3 continues to see its numbers declining with just 365 sales in May.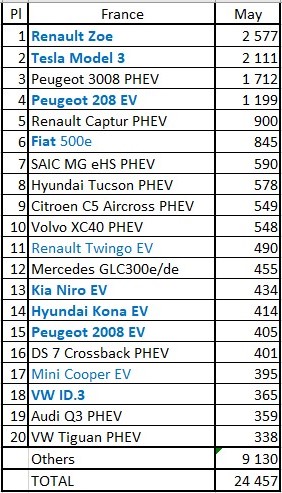 Despite being outsold by just over 400 units in May, the Model 3 was able to hold on to its lead for overall sales in 2021. The electric sedan now has 8,083 new owners in France this year, 556 units more than second place which is a plug-in hybdrid.
The next closest pure EV is the Renault Zoe in third place 635 units behind.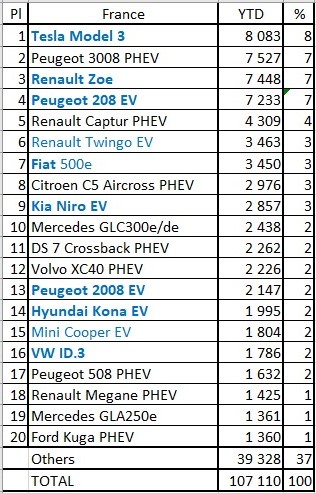 Strong sales are expected to continue as the transport ship Hyperion Ray just unloaded its cargo at the port in Le Havre, France. The extra inventory is expected to be sold quickly as the French EV incentive for the Model 3 will be dropping by €1,000 ($1,467 CAD) on July 1, 2021.
🚢Tesla-Ship Update🚢
🚢Hyperion Ray is thought to be unloading #Model3 SR+🚗 in Le Havre, France🇫🇷 as French incentive is dropping 1k€ come July 1st.
🎩tip to @TeslaStars
Next stop: UK🇬🇧 with Model 3 Performance.

Follow her & other Tesla-Ships here:https://t.co/dDvWRvRt0C pic.twitter.com/I3KlMuRgcn

— Morten Grove – Captain of all Tesla-Ships 🚢 (@mortenlund89) June 9, 2021