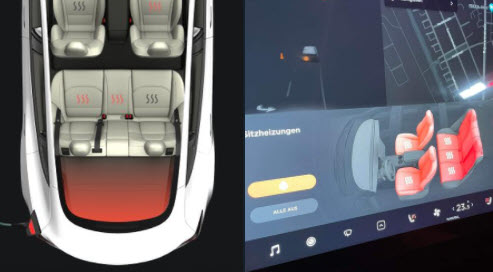 Tesla has started remotely activating the heated steering wheel and heated rear seat functions in Standard Range Plus (SR+) Model 3s purchased earlier this year.
The activation comes after Tesla recently announced all Model 3s built after November 1, 2021 come with both features as standard equipment.
However, the functions are being enabled on cars built as far back as September 2021 based on several reports coming out of Europe.
UPDATE Nov 17 1:05PM PST: So far it appears that delivery date is the more important date. Only owners with cars delivered after November 1, 2021 have so far reported receiving the upgrade.
Owners have not had to do anything to receive the update, as the features are simply appearing in the car. They are also showing in the mobile app after a restart.
Tesla Model 3 SR+ heated steering wheel upgrade might finally be coming soon
It is unclear at this time if Tesla has a cutoff date on when the features were included in production, but not activated. According to information from earlier this year, Model 3s made at Fremont since April 1, 2021 have the heated steering wheel.
Cars made at Giga Shanghai have reportedly had it included since January 1, 2021.
The other big question is whether Tesla will activate the rear heated seats in all SR+ Model 3s, which have always had the hardware but has so far been software locked. You can still purchase the $400 CAD software upgrade through the mobile app to activate them.
If you have noticed the features are now enabled in your car, let us know your production/delivery date in the comments below, or reach out to us at tips@driveteslacanada.ca.
This is a developing story, keep checking back for updates.
Tesla is activating the Rear Heated Seats and Heated Steering Wheel for Model 3 SR+ delivered November 2021 or later. No reports of cars getting it with a delivery date prior to november.Did not require a software update, just appeared after entering the car or restarting the app pic.twitter.com/j35515ceyX

— Tesla_Adri (@tesla_adri) November 17, 2021