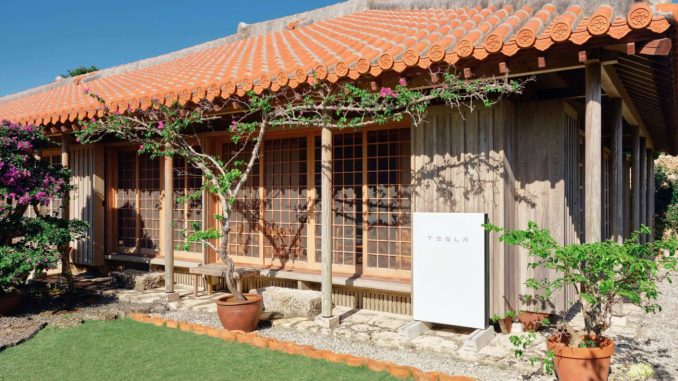 Tesla's Virtual Power Plant (VPP) in California has been in the headlines recently after helping to stabilize the grid during a state-wide flex event. As it turns out, the company has also been quietly setting up another VPP across the Pacific Ocean in Japan.
According to an official blog post to Tesla's website in Japan, the Miyakojima VPP was first launched in 2021. Located in Okinawa Prefecture through a partnership with Miyakojima Mirai Energy Co., Ltd. and Nextems Co., Ltd,, the VPP has now grown to over 300 homes with Powerwall batteries installed.
This makes it the largest VPP using household storage batteries in Japan. Tesla's goal for their VPP in Japan is to have 400 homes participating by the end of 2022, and 600 by the end of 2023.
As with their VPP in California, Powerwall units participating in the program will provide stored energy back to the grid and help stabilize it when demand is highest.
Tesla also released a video showcasing the Miyakojima VPP, with one participant highlighting how useful it is to have the Powerwall as it can also provide them with power when it is unavailable, like during a power outage when a typhoon hits.
"During typhoons, lights are available, refrigerators are usable as usual. What could be better than that?" the Powerwall owner said.
According to Tesla, participants in the program get their Powerwall and accompanying solar panels installed free of charge.
The Miyakojima VPP is another sign that Tesla is taking their Energy business very seriously, and it is only going to keep growing. Elon Musk has noted previously it could become larger than the automotive side of their business, and with the California VPP now with over 3,000 households participating, and with a new retail energy business in Texas on the horizon, 2023 could be the biggest yet for Tesla Energy.
You can learn more about the Miyakojima VPP below.
沖縄 宮古島に300台以上設置されたテスラのPowerwall。再生可能エネルギーの促進と電力の安定供給に貢献しています。https://t.co/82XbyPWkJQ pic.twitter.com/BkaJuOSxd4

— Tesla Japan (@teslamotorsjp) August 27, 2022