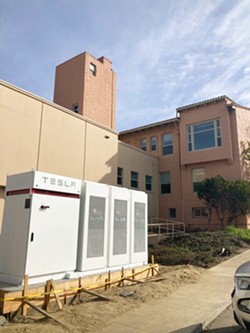 Sometimes, the grid is not enough to supply all your power needs. SLO County is in this situation and has deployed Tesla battery systems as backup, as reported by local media New Times of SLO.
Tesla's Megapacks were selected for a 100MW/200MWh battery energy storage project in Australia.
The stress on the grid in California is increasing, especially with the expected heat waves. This may lead to more frequent and extended blackouts in the state. However, San Luis Obispo (SLO) County has turned to battery energy storage to ensure its critical services are always available.
Come September 6th, the county will launch two energy storage units. The batteries were supplied by Tesla and can provide power for up to 31 hours. They will power SLO's Health Agency and Public Health buildings.
Describing the batteries, Annie Secrest, water and energy coordinator for the San Luis Obispo County Department of Public Works, said, "It [the batterie] reacts really fast to a grid outage signal and will provide energy to that particular facility. Now, let's say the grid outage is a PSPS [public safety power shutoff] event, and it's like six days long. Well, once the battery's exhausted, then a [diesel] generator will kick on. That's a really cool and very unique feature."
The county's site where vaccinations and infectious disease medicines are stored will benefit from the Tesla batteries.
SLO got a total of five batteries, and the remainder will serve the water treatment plants and two pump stations. Secrest estimates the battery will save the county about $800,000 in energy bills over 20 years. They achieve this by taking energy from the grid when it is the cheapest.
Tesla itself is building a massive battery energy storage system for Giga Texas.