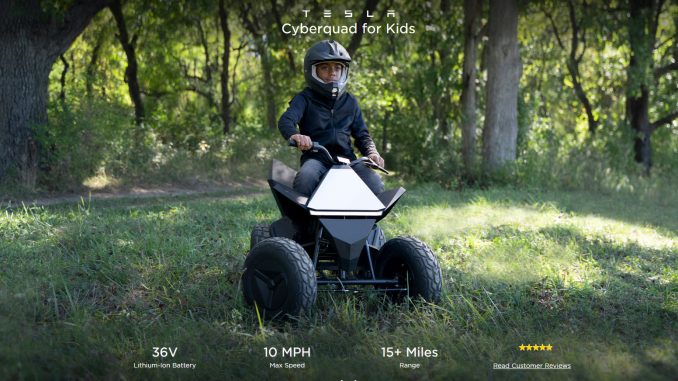 If you thought Tesla had run out of Cybertruck related items to add to their online shop after the release of a $50 USD Cyberwhistle yesterday and Cybertruck socks earlier in the week, you were sadly mistaken.
Tesla has launched a kids version of the Cybertruck tonight. Or for adults if you weigh less than 150lbs.
Priced at $1,900 USD, the Cyberquad for kids is made by Radio Flyer and features a a full steel frame, cushioned seat and adjustable suspension with rear disk braking and LED light bars.
It is powered by a 36V lithium-ion battery, good enough for up to 15 miles or more of range. According to the product listing, a completely discharged battery takes 5 hours to recharge on a regular wall outlet.
It also has a variable top speed depending on the rider's ability – 5mph or 10mph. The Cyberquad is limited to 5mph in reverse.
Unfortunately it is only available in the continental US, so our friends in Hawaii, Alaska, and Puerto Rico can join in on the sorrow of Canadians in missing out on this deal.
You can check it out on the Tesla Shop here.
If you really want one, they have already started appearing on eBay for exorbitant prices.