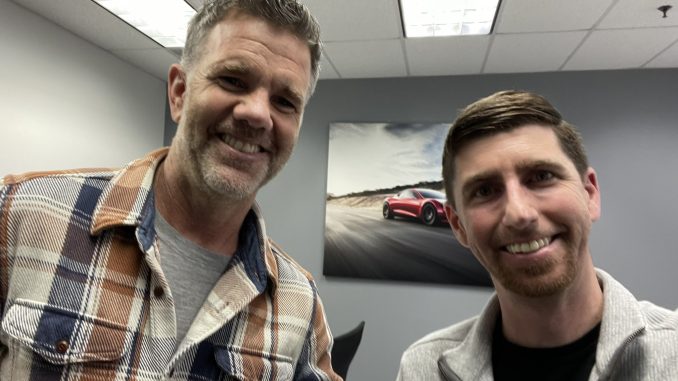 Tesla Chief Designer Franz von Holzhausen discussed a lot of topics in his latest interview with Ryan McCaffrey on the Ride The Lightning podcast, but his comments around the Cybertruck will probably be of most interest to the more than 1 million reservation holders waiting in line.
Tesla has yet to reveal the final design of the Cybertruck, but in the interview, which was recorded earlier this week at the automaker's Design Studio in Hawthorne, California, von Holzhausen confirmed some of the features it will be coming with, one of those being a yoke steering wheel.
The yoke was first introduced with the refresh Model S in 2021, and has garnered a lot of both positive and negative feedback. After initially saying a round steering wheel wouldn't be offered, Tesla reversed course and earlier this month added it to the online configurator alongside the yoke.
While von Holzhausen didn't say if buyers will get the choice between the round and yoke steering wheels, he did confirm the yoke will be part of the Cybertruck.
"I think that the yoke makes a lot of sense, once you experience it, it's a great driving experience once you combined with Autopilot it makes the whole kind of user experience and the interior cockpit simpler and cleaner and so yeah we're looking at the yoke there too," he said.
Another design feature von Holzhausen confirmed is how the door handles, or lack thereof, will work. Instead of having to cut a hole in the ultra-hard 30X cold-rolled stainless-steel door panel, von Holzhausen said they wanted to simplify the manufacturing process they will have no door handles and will instead function the same as the Model X front doors where they will automatically pop open when you approach the vehicle. Showing that they are still working on the minor details, this feature may come to the rear doors as well, according to von Holzhausen.
It was also said that there will be buttons for the doors, although it was unclear from the audio if this will be for both the front and rear doors. You can see Elon Musk opening the front door of the Cybertruck prototype in the video below which we captured at the Cyber Rodeo last year.
McCaffery and von Holzhausen talk about some other Cybertruck topics, like the stainless steel finish and how scratches will be removed. von Holzhausen also teases us by saying there are still features that haven't been announced, but that they will be "pleasant surprises" that are the "right competitive things for the product."
The Cybertruck isn't the only topic of discussion during the hour-long interview as they also talk about the Roadster, Model S and Model 3 design, and more.
You can listen to the full interview below. The relevant timestamps for each topic are below the YouTube video (which is audio only).
0:47 Podcast intro
3:02 Franz interview begins
3:29 Petersen Auto Museum's Tesla exhibit
6:51 Was the Cybertruck inspired by the DeLorean?
8:39 Removing scratches from the Cybertruck's stainless steel finish
10:54 Customizing the finish of a Cybertruck?
13:56 Cybertruck Easter egg
17:51 Did Franz expect the reactions to the Cybertruck's design?
20:38 No other car company would greenlight something like the Cybertruck
22:06 Will there be a Cybercar?
22:58 Is the Cybertruck design done?
24:15 The Cybertruck's doors
24:49 Yoke steering on the Cybertruck
25:23 Are there features on the Cybertruck we don't know about yet?
26:39 What Franz thinks of the other EV pickup trucks
28:08 Next-gen Roadster status update
29:59 Constantly working on the Model S
31:14 How long was the Model S refresh in the works?
33:09 The new steering wheel option on the Model S and Model X
34:08 The recent design change to the back of the Model S and Model X
35:55 Cybertruck don't need no stinking badges
36:19 Franz on the capacitive touch buttons on the yoke
37:22 New Model S's much lower drag coefficient
39:30 How many times has the Model S been completely redesigned under the skin?
40:24 Franz on Tesla seats
41:38 How full autonomy changes Franz's thought process
42:55 Vehicle paint colors
45:30 Will the stalks get deleted on the Model 3 and Model Y too?
46:26 Franz's thoughts on the Model Y likely becoming the world's best-selling passenger vehicle
48:25 Franz on Tesla vehicle safety
49:36 Franz's relationship with the Berlin and Shanghai Design Studios
50:40 Shortening the time between design and production
52:09 How has Franz's skillset grown in his time at Tesla?
53:29 If Franz could start the Model 3 over, what would he do?
54:40 Model 3 moving to the 4680 battery cells and structural battery pack?
55:32 What does Franz want his legacy to be?
56:49 What did Franz work on today?
58:15 Non-interview news: Tesla slashes vehicle prices across the board
1:12:37 Outro