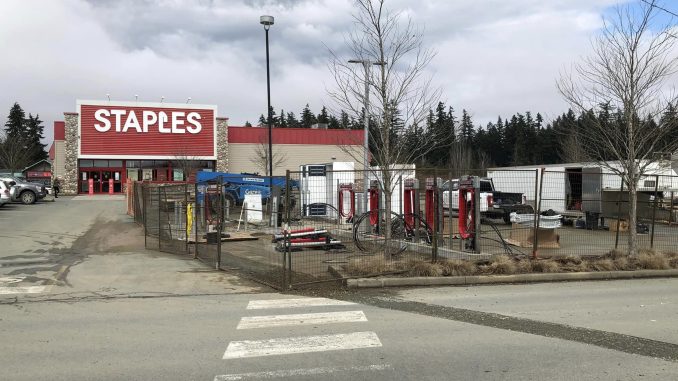 Another surprise Tesla Supercharger has appeared on Vancouver Island, British Columbia, this time in Port Alberni. There are currently just two Superchargers on all of Vancouver Island, but with this latest project that number will soon jump to four.
The Port Alberni Supercharger is located in front of Staples at the Pacific Rim Shopping Center (3555 Johnston Rd), just as you enter the town of Port Alberni off Highway 4. According to photos of the site shared by Raymond de Beeld on the Tesla Owners Vancouver Island Facebook group the site will feature 8 V3 Supercharger stalls. Six of the pedestals have already been installed but we can see conduit for another two.
This Supercharger in Port Alberni will be a welcomed addition for Tesla owners on Vancouver Island en route to Tofino and Ucluelet on the west coast of the island . The nearest Supercharger is about 85km to the east in Nanaimo, a V2 station with just 8 stalls.
There is a second Supercharger also currently under construction in Nanaimo. Over the weekend crews started installing the pedestals at that location.
https://twitter.com/DriveTeslaca/status/1631705767886860290
Both the Nanaimo and Port Alberni Superchargers do not appear on Tesla's Find-Us map as upcoming locations, so we don't have an estimated opening date for either, but based on the level of construction there is a chance both could open before the of the month, but a more likely opening date will be in April.